Symphony Under The Sky
Quick Links: Tickets & Seating | Health & Safety | Food and Drink | Parking

Music lives outside during Symphony Under the Sky.

Join us in Hawrelak Park for the return of your favourite summer tradition! Your Edmonton Symphony Orchestra will perform two programs of sensational music during Symphony Under the Sky, taking place September 1 to September 4.
There will be free ETS Shuttle Service from University of Alberta Windsor Park Parkade available for every performance. Parking charges of $5.50 will apply at the parkade. More details can be found below, under the Parking section.
If a performance needs to be rescheduled due to inclement weather, you will receive an email up to four hours ahead of the scheduled start time. We also recommend that you keep an eye on our website and social media channels for the most up-to-date information.
Seating Map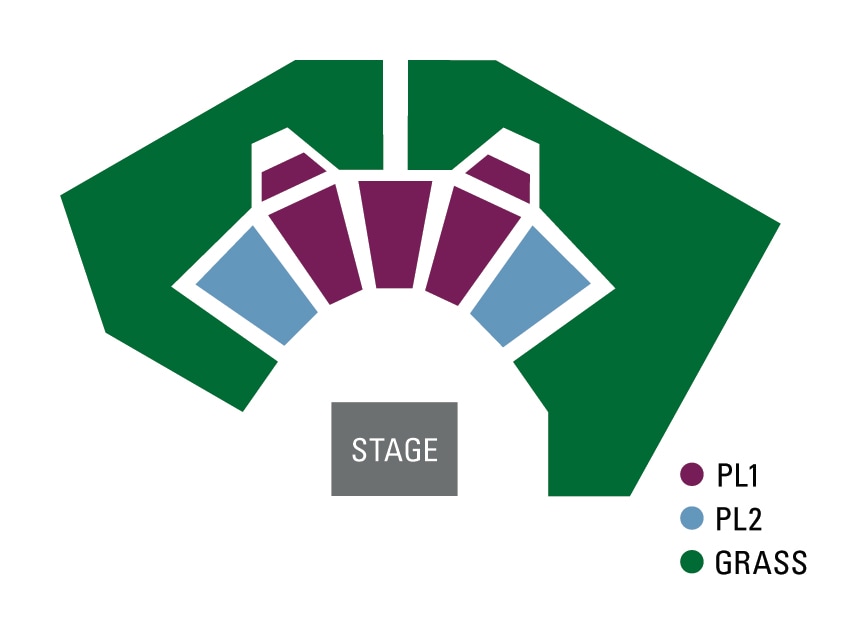 Tickets and Seating
General admission, which refers to grass seating, includes a designated area for lawn chairs.
Concession will accept cash, debit, and credit cards.
---
Reserve Tickets:
Hollywood Hits
Festival Favourites
---
Health & Safety at Symphony Under The Sky!
We look forward to welcoming you back, safely!
Hand sanitizer stations will be on the premises.
Electronic tickets preferred.
Important information regarding each concert will be sent out via email prior to concert date.
Latecomers will be admitted at the appropriate moment.
---
Box Office
The Box Office will be open at the Heritage Amphitheatre starting two hours before each performance.
Child Policy
Children under 3 will be admitted with youth tickets. Infants under 12 months will receive free Babes in Arms tickets from the onsite Box Office in the hour before the concert.
Festival Admittance
Gates open 90 minutes before each concert.
Pets are not permitted in the park during the festival.
Weather Updates
If the show needs to be rescheduled due to inclement weather, please check our social media accounts for updates.
Parking
Parking is available at Hawrelak Park, but it is extremely limited. We suggest everyone to use the University of Alberta Windsor Car Park. Free shuttle service is available from the Windsor Car Park lot to Hawrelak Park and back. View map.

Parking charges of $5.50 will apply at the parkade for attendees that choose the 'Symphony' option on any of the dispensers at Windsor Carpark or via HONK mobile. 'Symphony' rate is for anytime starting at 4:00pm on Thursday and Friday, and all day Saturday and Sunday. The free ETS shuttle service will begin 2.5 hours prior to the performance and run until 1 hour after the performance ends.
Biking
In Hawrelak Park near the Amphitheatre gate, you'll find a free, supervised bike compound compliments of Bike Edmonton, a non-profit society that offers cycling resources to Edmontonians. Bring a lock and enjoy the ride! Donations to Bike Edmonton are welcome.
Food & Drink
Concession will be available at each concert. There will also be a variety of food offerings from various vendors on site. Please note that instead of their physical trucks, these vendors will have tents set up inside Heritage Pavilion.
BYOWB – Bring your own water bottle!
Join us in raising a toast to Edmonton and our great tasting tap water with a Glass of the Sask. EPCOR's Glass of the Sask water tank will be on site all weekend for all attendees to fill up with water, helping you beat the heat and reduce environmental impact associated with single use plastic water bottles! Learn more about the Glass of the Sask initiative at epcor.com/glassofthesask.
Smoking
A designated smoking, vaping, and cannabis area is located to the east of the Heritage Amphitheatre main gate. Smoking must be 10 m away from the exit.
---
Symphony Under The Sky Supported by
---