Support the Edmonton Symphony Orchestra

Hello,
My name is Laura Veeze, and I am proud to be a violinist in your Edmonton Symphony Orchestra.
Music has always been a constant force in my life. Growing up in Amsterdam, with a family full of musicians, I started playing violin at the age of 3. It was a language that I was surrounded with, and I believe it made for a very enriching childhood.
When my husband, ESO Concertmaster Robert Uchida, and I had children of our own, we knew music was something that we would pass down to them too. Music can be such a powerful and meaningful part of our emotional being. I don't see it as a luxury. I think it's actually a much more essential part of us being humans.
I believe you feel this way too, when you step into our hall and the sound invades you in the most positive way that words cannot express. The music speaks to us. It may sound different, but it speaks to us all.
Donate Today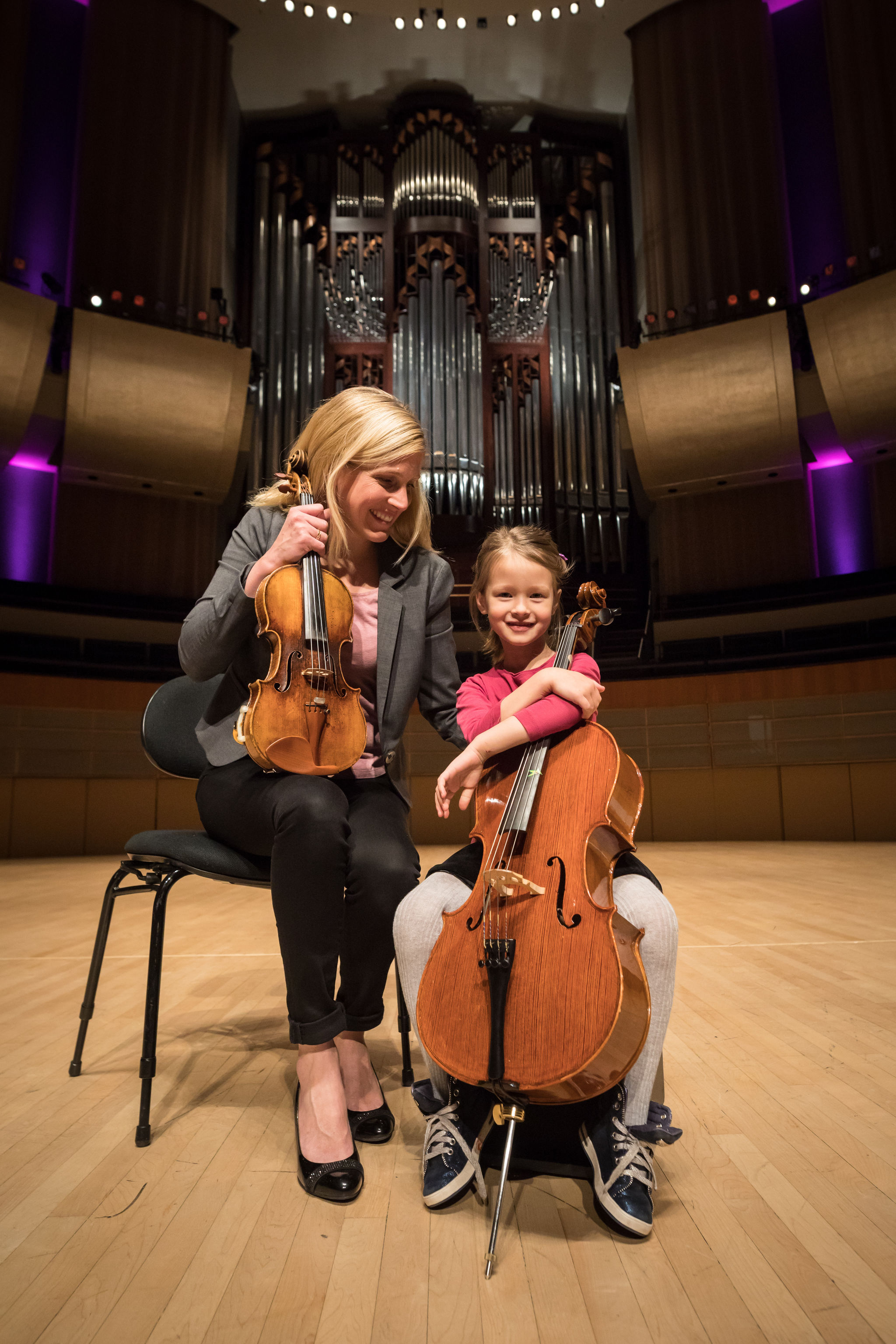 Our children, Marten and Noemi, have grown up immersed in a world full of music, just as I did. Marten now plays violin while Noemi takes cello lessons. Playing a string quartet with Robert and our children, and seeing them get a kick out of playing music together is one of the best things I've experienced.
We moved to Edmonton a week before Noemi's first birthday, and celebrated with balloons in an empty house. Edmonton is all she has ever known as her home, and we have truly loved our journey becoming members of this community. It is a community where art, in it's many forms, is celebrated.
As a member of the ESO, I can see that this orchestra means so much for so many different people in this city, whether they are children just learning the language of music, a Pops listener or Masters Subscriber. I really appreciate that we are able to do different collaborations so everybody feels they can come here, and not only connect to what we're doing - but connect with each other.
I believe it's vital that we keep connection. When you donate to the ESO, you are saying you believe that too.
Donations to the ESO are why we continue to have a vibrant orchestra in this city. When you make a donation, you are:
Sustaining a 56 member orchestra
Bringing back to life the music of Vivaldi, Mozart and more
Giving a gift of music education to thousands of local children through education concerts and programs like YONA-Sistema
We have a world class hall at the Winspear Centre, with incredible acoustics that alone are reason enough to boast. Let's be proud. Proud of what you, as a supporter, have made possible.
But let's not stand by now either. We have to strive forward and ensure that the ESO and the arts continue to have a strong voice, for our children and grandchildren as well.
This spring, please consider investing in your orchestra – for the love of music in our community.
Donate Today
With gratitude,

Laura Veeze
*ESO Violinist*