Why Digital?
  Free Event • Register Now!  


Wednesday January 6 • 10:00 AM - 11:30 AM MST
Via Zoom
Presented by:
Annemarie Petrov | President and CEO of the Winspear Centre and Edmonton Symphony Orchestra
Tateo Nakajima | Arup Fellow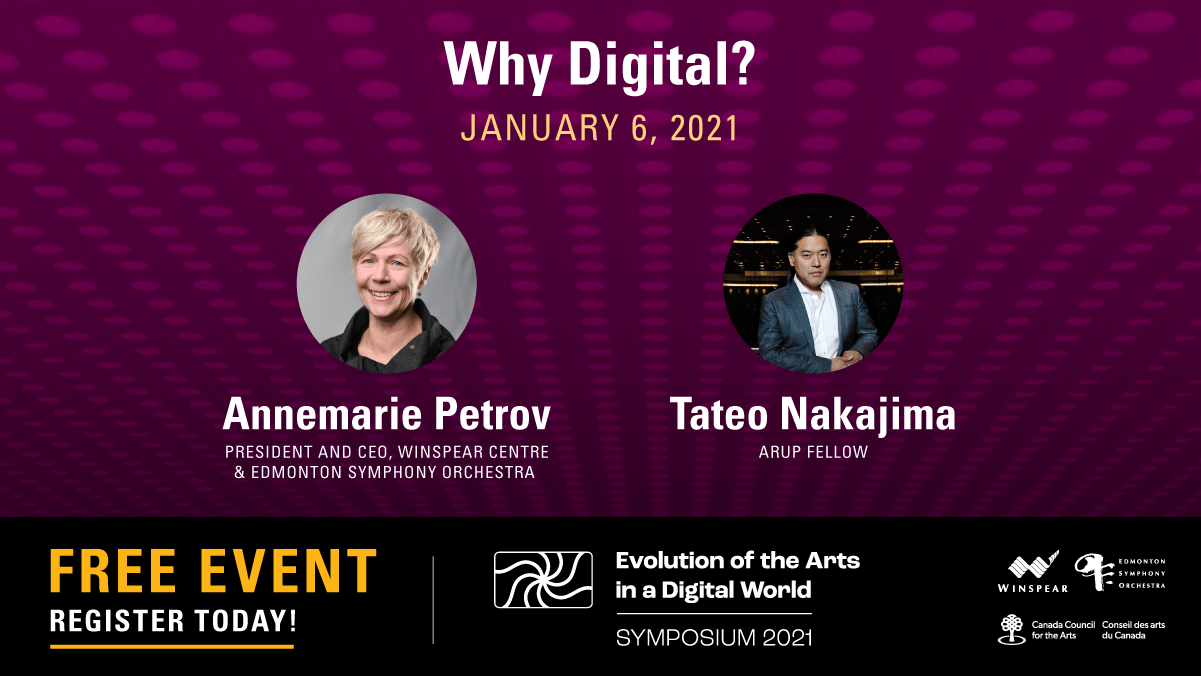 ---
About the Presentation
The ways we can interact with the world around us are infinite, and the technologies we have at our fingertips are powerful engines for participation. That said, 'digital' can mean so many things, and the movement towards integrating technology is hard for not-for-profits in particular. We are innovative and efficient with the resources we have; however, we require more knowledge and expertise to move digital initiatives forward in particular. Digital knowledge is not a luxury: it is a must-have, and the goal of our symposium is to ensure that non-profits and arts organizations all benefit from the sharing of digital technology and digital strategy.
Why Digital? will address exactly this: why digital technology is important, and why it has become increasingly so in the past year. Our presenters, Annemarie Petrov, President and CEO of the Francis Winspear Centre for Music and Edmonton Symphony Orchestra, and Tateo Nakajima, Arup Fellow, will discuss the benefits and costs of digital technology, including:
Technology in physical gathering spaces
How non-profit arts organizations can find new ways to bring their community together utilizing technology
Using technology to reinforce organizational values, brand, and vision.
Together, we will break down barriers and misconceptions surrounding digital technology and explore some of the many ways in which it can benefit our organizations, our patrons, and our communities.
About the Presenters
Annemarie Petrov
President and CEO of the Winspear Centre and Edmonton Symphony Orchestra
Annemarie is interested in the role of music in innovation, sustainability, and a healthy society. She has seen the Winspear Centre through the creation of the Tommy Banks Centre for Musical Creativity (The Banks Centre) and is currently leading its expansion into a state-of-the-art community hub due to open in 2022. Knowing that participation in live music is essential to our well-being, she wants to ensure it is accessible to everyone. Among various programs intended for all ages, The Banks Centre includes YONA-Sistema, a free inner-city afterschool program launched eight years ago.
A native of Montréal and a graduate of McGill University in music performance, the values of inclusion and equality instilled in her since childhood serves as her north star. Annemarie has held leadership positions with Symphony New Brunswick, the National Arts Centre Orchestra and Winnipeg Symphony Orchestra. She joined the ESO and Winspear Centre in 2008. She currently serves on the boards of the Edmonton Chamber of Commerce and the Lieutenant Governor of Alberta Arts Awards, and the Edmonton International Airports Business Advisory Committee.
Annemarie is fanatical about a good cup of coffee, spending time in the mountains, a swim in a cold lake, reading just about anything, and spending time with her family and big, adorable dog.
---
Tateo Nakajima
Arup Fellow
Tateo Nakajima is an Arup Fellow and an internationally recognized leader in the design and planning of performing arts venues and the relationship the arts have with the built environment. Prior to joining Arup, Tateo was a Partner at Artec Consultants Inc, working on the theatre planning and auditorium acoustics aspects of a wide range of projects.
Tateo has lead projects around the world, working many of the highest profile architecture and design practices, and with some of the most influential artists and musical ensembles today. He has had overall design and management responsibility for consulting input to projects ranging from concert halls and opera houses to pop entertainment venues, museums, immersive experiences, and arts, culture & entertainment districts in the Americas, Europe, the Middle East and Asia.
Tateo's formal training and early career experience was in violin performance and conducting, studying in Canada, Japan, and in The Netherlands. He has led orchestras and opera companies in France, Switzerland, Romania, and Bulgaria. In addition, he has guest conducted across Europe, including a new production of ballet at the Vienna State Opera.
Tateo Nakajima was trained in the design and planning of performing arts venues by the late Russell Johnson, who remains a guiding influence in his work.
---
More Information
Click a button below to open
The ways we can interact with the world around us are infinite, and today's technologies are powerful engines for digital participation. On Wednesday mornings from 10 AM – 11:30 AM MT beginning January 6th, 2021, the Edmonton Symphony Orchestra (ESO) is hosting a webinar-series symposium featuring presenters with expertise in specific digital technology fields. Our presenter list includes leads from arts organizations that have experienced a recent digital transformation, as well as digital experts from around the world. The symposium's goal is to educate, inspire, and guide local arts organizations and orchestras across Canada through their exploration of and introduction to relevant digital technology.
Evolution of the Arts in a Digital World
will provide organizations with the tools they need to determine how and when to implement technology and identify how technology can be used as a tool to help tell a story. In addition, the symposium will act as a guide to implementing specific technologies such as immersive and digital interactives in budget-friendly and thoughtful ways. Through example-driven, hands-on approaches, our symposium will give participants an introduction to integrating technology in their organizations with confidence.
---
The Evolution of the Arts in a Digital World Symposium is proud to be featuring experts from the following organizations:
We encourage arts organizations, not-for-profit organizations, and orchestras to join us in national conversation about the ways in which digital technology can be included in everyday organizational functions with creativity and ease. Our symposium is aimed towards a variety of participants, including:
CEOs who want to understand how to introduce digital initiatives to their organizations in ways that will connect patrons to their organizational purpose and story.
General Managers who want to understand how to create teams for digital operations, who needs to be involved in decisions regarding digital initiatives, and what the end benefits are of going digital.
Educators who want to expand their outreach activities to include imaginative and curriculum-focused digital learning experiences.
Audience Engagement Teams who want to find new ways to share their stories with patrons in meaningful, memorable ways.
Everyone who wants to understand the power that creatively used technology can have on a patron's experience at, memory of, and affection for an organization.
---
Any questions about the symposium should be directed to Kyra Droog at symposium@winspearcentre.com or 780-401-2593.
---
This Symposium is made possible through the generous support of the Canada Council for the Arts.