Using Digital as a Tool in Storytelling 
  Free Event • Register Now!  


Wednesday January 13 • 10:00 AM - 11:30 AM MST
Via Zoom
Presented by:
Gretchen Coss  | Senior Vice President of Strategic Partnerships
Register Here Attendee Package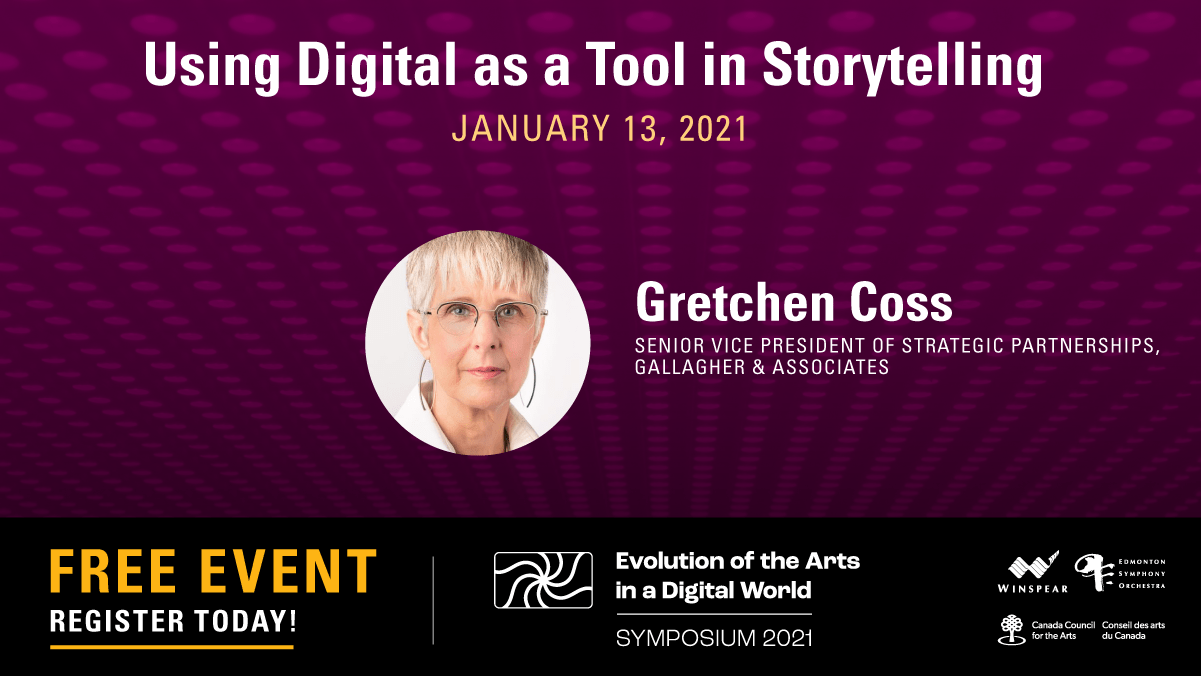 ---
About the Presentation
Storytelling is a fundamental aspect of any organization: it's the way in which we tell our audiences why they should visit us, support us, and engage with us. The ways in which we tell our stories are deeply entrenched within the medium(s) through which our stories are told and the intentional connection of the outward messaging.
Participation. Joy. Action. How do we use technology - a tool devoid of emotion - to stimulate these reactions in people? In many cases, we will need to reimagine the stories we are telling and the ways in which we can resonate with our audiences, whether in person or virtually.
Join Gretchen Coss, Senior Vice President of Strategic Partnerships with Gallagher & Associates, as she highlights specific considerations to harness the power of digital storytelling. As Gretchen takes us through the intersection of digital and physical design within interpretive experiences, she will help participants understand how and when to place technology in service of the story, rather than just for the sake of cutting edge technology.
The goal will be to understand how design decisions elevate the story. These stories within the Cultural and Performing Arts sector have the ability to bridge the cultural divide and to play a significant role in the healing process - bringing our people, our cities and our economies back.
About the Presenter
Gretchen Coss
Senior Vice President of Strategic Partnerships, Gallagher & Associates
Gretchen Coss is a visionary leader, educator, and designer with over twenty-five years of experience in global brand management, experience design, and placemaking. Prior to G&A, Gretchen was Vice President/Director of Graphics for Gensler LA; and owned her own agency, Coss Creative, where she led design and development for large-scale, mixed-use projects for over 11 years. Gretchen joined G&A at its inception to lead strategic visioning and pursuits, contributing to the firm's worldwide growth and esteemed reputation. She is a passionate educator and active industry leader, serving on the board of the Society for Experiential Graphic Design for six years, where she was a past president and helped to launch their education foundation; and as a past adjunct professor for the Master of Exhibition Design at the Corcoran College of Art + Design, where she won a faculty award for exemplifying innovative teaching techniques. Gretchen continues to lead museum planning and visioning workshops throughout the world for organizations such as IMCC, MAAM, ICOM, SEGD, and AAM.
---
More Information
Click a button below to open
The ways we can interact with the world around us are infinite, and today's technologies are powerful engines for digital participation. On Wednesday mornings from 10 AM – 11:30 AM MT beginning January 6th, 2021, the Edmonton Symphony Orchestra (ESO) is hosting a webinar-series symposium featuring presenters with expertise in specific digital technology fields. Our presenter list includes leads from arts organizations that have experienced a recent digital transformation, as well as digital experts from around the world. The symposium's goal is to educate, inspire, and guide local arts organizations and orchestras across Canada through their exploration of and introduction to relevant digital technology.
Evolution of the Arts in a Digital World
will provide organizations with the tools they need to determine how and when to implement technology and identify how technology can be used as a tool to help tell a story. In addition, the symposium will act as a guide to implementing specific technologies such as immersive and digital interactives in budget-friendly and thoughtful ways. Through example-driven, hands-on approaches, our symposium will give participants an introduction to integrating technology in their organizations with confidence.
---
The Evolution of the Arts in a Digital World Symposium is proud to be featuring experts from the following organizations:
We encourage arts organizations, not-for-profit organizations, and orchestras to join us in national conversation about the ways in which digital technology can be included in everyday organizational functions with creativity and ease. Our symposium is aimed towards a variety of participants, including:
CEOs who want to understand how to introduce digital initiatives to their organizations in ways that will connect patrons to their organizational purpose and story.
General Managers who want to understand how to create teams for digital operations, who needs to be involved in decisions regarding digital initiatives, and what the end benefits are of going digital.
Educators who want to expand their outreach activities to include imaginative and curriculum-focused digital learning experiences.
Audience Engagement Teams who want to find new ways to share their stories with patrons in meaningful, memorable ways.
Everyone who wants to understand the power that creatively used technology can have on a patron's experience at, memory of, and affection for an organization.
---
Any questions about the symposium should be directed to Kyra Droog at symposium@winspearcentre.com or 780-401-2593.
---
This Symposium is made possible through the generous support of the Canada Council for the Arts.

All 8 events are free to register. For more information on all events, visit the Symposium main page.