Immersive vs Interactive Technology: A Practical Guide
  Free Event • Register Now!  


Wednesday February 17 • 10:00 AM - 11:30 AM MST
Via Zoom
Presented by:

Jesse Moffat | Director of Collections and Exhibitions, National Music Centre (NMC)
Amanda Derksen | Digital Initiatives Librarian, Edmonton Public Library
Dan Alfano | Manager, Digital Initiatives, Edmonton Public Library
Milan Krepelka | Senior Manager, Exhibit Design & Quality, TELUS World of Science Edmonton
Register Here Attendee Package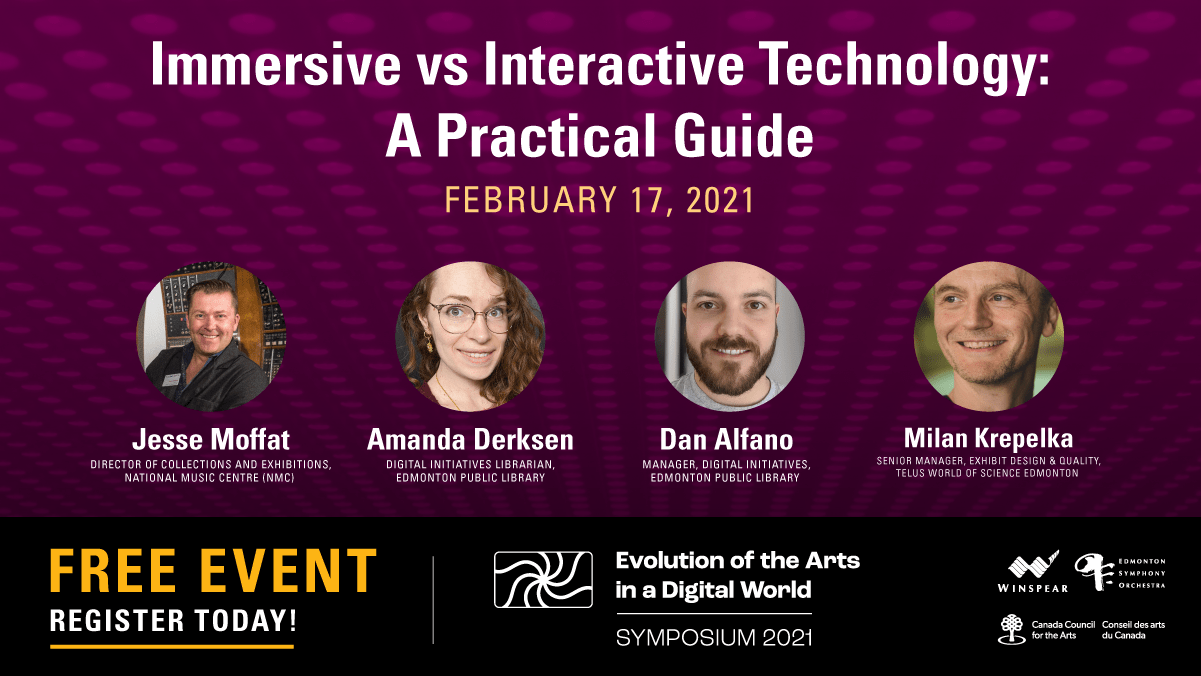 ---
About the Presentation
With the many different types of digital technology available for use, deciding which technology to use can be a big step. Luckily, we've compiled a panel of local experts who will share their experience working on various immersive and interactive projects in Edmonton and Calgary. They will provide advice, recommend specific technologies, discuss the prevalence and changing methods of creating immersive and interactive experiences, and leave audience members with an understanding of the ways in which they can utilize these technologies to expand their organizational offerings. Some questions the panelists will tackle include:
Where do you recommend organizations begin when they're planning to include immersive or interactive technology in their organization's daily activities?
If you could provide one piece of advice about integrating technology (of any kind) in an organization, what would it be?
What's the best use of immersive or interactive technology within your organization?
By providing practical, experience-based answers, this panel will prepare you to tackle new technologies and find new and creative ways to tell your organizational story through digital technology.
About the Presenters
Jesse Moffatt
Director of Collections and Exhibitions, National Music Centre (NMC)
Jesse Moffatt is the Director of Collections and Exhibitions at the National Music Centre (NMC). He joined the organization in 2005 and was part of the team that helped NMC transition from a grassroots operation to a national institution. Prior to opening NMC's state-of-the-art facility, Studio Bell, in 2016, Jesse worked closely with world-leading exhibition design firm, Hayley Sharpe Designs, in the development of NMC's permanent exhibitions. Since then, Jesse has led the vision and development of NMC's collections and exhibitions, reimagining the visitor experience through the development of physical and digital interactive and experiential exhibitions. Dedicated to sustainable exhibition development, Jesse believes that making the visitor experience meaningful, engaging, relevant and exciting through good design is the recipe for a successful 21st century cultural institution. As the brainchild behind Calgary's street pianos project, where he placed pianos in unexpected places for the public to play, Jesse received the 2015 Downtown Calgary Vitality Award for enhancing the downtown core through art and culture. On weekends, you'll find Jesse playing competitive soccer, on the sidelines coaching one of his kid's teams, cooking up a storm for family and friends, or in his studio creating his next unique design.
---
Amanda Derksen
Digital Initiatives Librarian, Edmonton Public Library
Amanda Derksen has spent the last ten years connecting people with technology in academic and public libraries. She's started a Makerspace, built a Twitter bot for tomatoes, worked with post-secondary students to develop interactives for public exhibit, and most recently helped bring a 2-story digital wall to life. She enjoys puzzling through the unexpected aftermaths of human-computer interactions.
When not at work, Amanda spends her free time collecting plants, science fiction, and hobbies.
---
Dan Alfano
Manager, Digital Initiatives, Edmonton Public Library
Dan Alfano holds a Bachelor of Education degree from the University of Alberta and is the Manager, Digital Initiatives at Edmonton Public Library (EPL). He has spent the past 11+ years working in the world of tourism and informal education at public facilities. He has a background in developing and facilitating STEAM Educational programs, hands-on exhibits and special events. His current work primarily revolves around working within makerspaces, digital literacy and digital exhibits at EPL. He is also entering his 5th year as a volunteer/coach with FTC Robotics.
---
Milan Krepelka
Senior Manager, Exhibit Design & Quality, TELUS World of Science Edmonton
From a very young age, I was taking things apart to see how they work. At first I was just dutifully arranging their parts by how shiny they were, but by the age of 7 or 8, I finally began putting a few things back together. Much to the satisfaction of everyone that left me alone with tools and a machine of any kind, around 11 those things would occasionally work again. I've always been fascinated by the design of things, thinking about the energy and effort that go into the creation and production of things. Throughout my education and career that fascination has evolved to include learning about ways that technology and machines interplay.
In my current role as Senior Manager of Exhibit Design and Quality at TELUS World of Science Edmonton, I have the opportunity to help bring exciting and educational experiences to life. For the past 18 years I've been involved with many great projects ranging from small tabletop exhibits to full galleries of immersive and interactive elements. Before landing my current position, I had spent time as an automotive mechanic, and a mechanical engineering and computing science student before landing at the University of Alberta's Industrial design department. Since finishing that program in 2000, I've been fortunate to take part in multiple design and consultation roles and teaching design and CAD part time.
---
More Information
Click a button below to open
The ways we can interact with the world around us are infinite, and today's technologies are powerful engines for digital participation. On Wednesday mornings from 10 AM – 11:30 AM MT beginning January 6th, 2021, the Edmonton Symphony Orchestra (ESO) is hosting a webinar-series symposium featuring presenters with expertise in specific digital technology fields. Our presenter list includes leads from arts organizations that have experienced a recent digital transformation, as well as digital experts from around the world. The symposium's goal is to educate, inspire, and guide local arts organizations and orchestras across Canada through their exploration of and introduction to relevant digital technology.
Evolution of the Arts in a Digital World
will provide organizations with the tools they need to determine how and when to implement technology and identify how technology can be used as a tool to help tell a story. In addition, the symposium will act as a guide to implementing specific technologies such as immersive and digital interactives in budget-friendly and thoughtful ways. Through example-driven, hands-on approaches, our symposium will give participants an introduction to integrating technology in their organizations with confidence.
---
The Evolution of the Arts in a Digital World Symposium is proud to be featuring experts from the following organizations:
We encourage arts organizations, not-for-profit organizations, and orchestras to join us in national conversation about the ways in which digital technology can be included in everyday organizational functions with creativity and ease. Our symposium is aimed towards a variety of participants, including:
CEOs who want to understand how to introduce digital initiatives to their organizations in ways that will connect patrons to their organizational purpose and story.
General Managers who want to understand how to create teams for digital operations, who needs to be involved in decisions regarding digital initiatives, and what the end benefits are of going digital.
Educators who want to expand their outreach activities to include imaginative and curriculum-focused digital learning experiences.
Audience Engagement Teams who want to find new ways to share their stories with patrons in meaningful, memorable ways.
Everyone who wants to understand the power that creatively used technology can have on a patron's experience at, memory of, and affection for an organization.
---
Any questions about the symposium should be directed to Kyra Droog at symposium@winspearcentre.com or 780-401-2593.
---
This Symposium is made possible through the generous support of the Canada Council for the Arts.

All 8 events are free to register. For more information on all events, visit the Symposium main page.