Expanding our Horizons: Innovation, Transformation, and the Future
  Free Event • Register Now!  


Wednesday February 24 • 10:00 AM - 11:30 AM MST
Via Zoom
Presented by:
Annette Mees | Head of Audience Labs, Royal Opera House
Register Here Attendee Package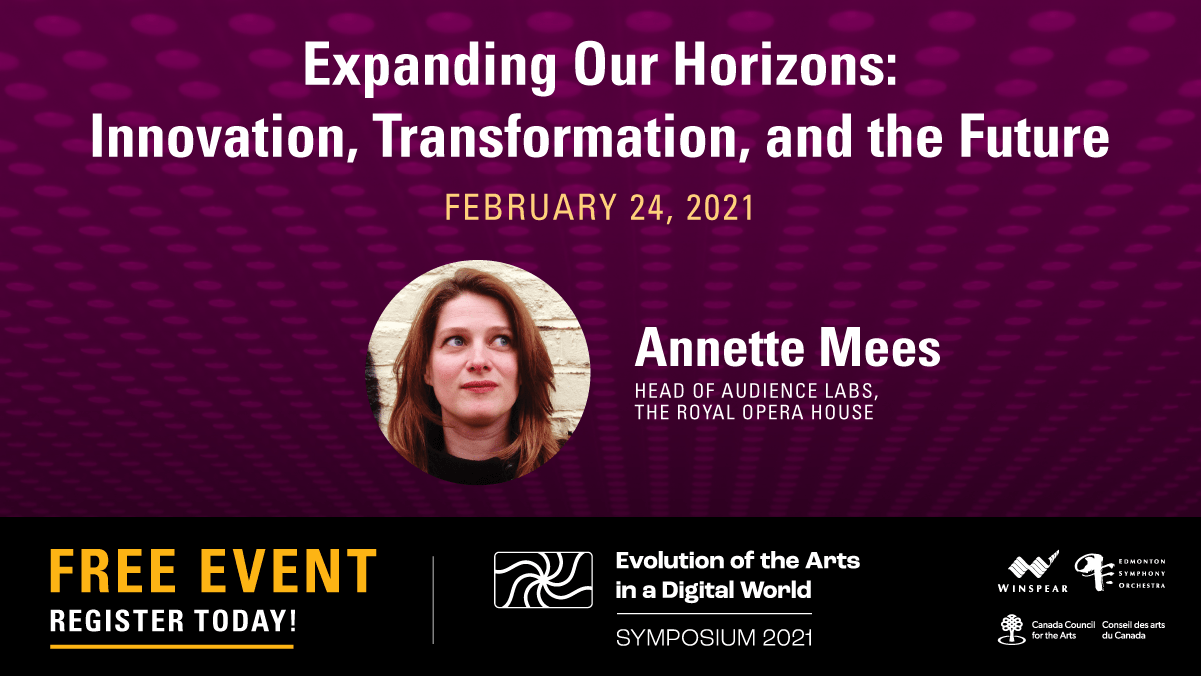 ---
About the Presentation
The future of our organizations depends on our ability to adapt to the new world we live in. We all have questions, and want to know what's next, what's possible, and how we continue making good art in our world. Lucky for us, we have Annette Mees, head of Audience Labs at the Royal Opera House, to help us look towards the future at how we can make art an important part of the digital boom.
Innovation is a mindset, and Annette is here to break down the aspects of that mindset. She'll discuss different ways of approaching projects, transformation in what a digital team might look like moving forward, and explore new funding options. She understands that digital art is about expanding the industry, not replacing what we already have, and through her experience and knowledge, we will all be able to look to the future with optimism of how we can grow and expand our current horizons.
About the Presenter
Annette Mees
Head of Audience Labs, The Royal Opera House
Annette Mees is an award-winning artist and immersive theatre director. She has directed experiential work across art forms mixing live and digital experiences that put the audience at the heart. She advises and speaks on the future of culture, artistic innovation, creative R&D and models of art that allow dialogue with audiences.
Annette is currently the Head of The Audience Labs at the Royal Opera House - dedicated to exploring the artistic possibilities of immersive technologies. It partners leading artists with cutting-edge creative immersive technology and inter-disciplinary creative teams to create world-class work that innovates and pushes boundaries.
She was a Creative Fellow for WIRED and The Space, Guest-Artistic Director of the Danish Inspiration Lab and worked on the IK-prize winning Sensorium at Tate Britain. She started her career as one of the co-Artistic Directors of Coney.
Annette has worked with partners across sectors including Google, Tate Britain, UK Parliament, Ogilvy, WIRED Magazine, European Space Agency, British Council, King's College, ICA, The National Theatre of Wales, SJ01 San Jose Biennale, & NESTA.
---
More Information
Click a button below to open
The ways we can interact with the world around us are infinite, and today's technologies are powerful engines for digital participation. On Wednesday mornings from 10 AM – 11:30 AM MT beginning January 6th, 2021, the Edmonton Symphony Orchestra (ESO) is hosting a webinar-series symposium featuring presenters with expertise in specific digital technology fields. Our presenter list includes leads from arts organizations that have experienced a recent digital transformation, as well as digital experts from around the world. The symposium's goal is to educate, inspire, and guide local arts organizations and orchestras across Canada through their exploration of and introduction to relevant digital technology.
Evolution of the Arts in a Digital World
will provide organizations with the tools they need to determine how and when to implement technology and identify how technology can be used as a tool to help tell a story. In addition, the symposium will act as a guide to implementing specific technologies such as immersive and digital interactives in budget-friendly and thoughtful ways. Through example-driven, hands-on approaches, our symposium will give participants an introduction to integrating technology in their organizations with confidence.
---
To date, speakers at our symposium include experts from:
Arup
Gallagher & Associates
Edmonton Public Library
We encourage arts organizations, not-for-profit organizations, and orchestras to join us in national conversation about the ways in which digital technology can be included in everyday organizational functions with creativity and ease. Our symposium is aimed towards a variety of participants, including:
CEOs who want to understand how to introduce digital initiatives to their organizations in ways that will connect patrons to their organizational purpose and story.
General Managers who want to understand how to create teams for digital operations, who needs to be involved in decisions regarding digital initiatives, and what the end benefits are of going digital.
Educators who want to expand their outreach activities to include imaginative and curriculum-focused digital learning experiences.
Audience Engagement Teams who want to find new ways to share their stories with patrons in meaningful, memorable ways.
Everyone who wants to understand the power that creatively used technology can have on a patron's experience at, memory of, and affection for an organization.
---
Any questions about the symposium should be directed to Kyra Droog at symposium@winspearcentre.com or 780-401-2593.
---
This Symposium is made possible through the generous support of the Canada Council for the Arts.

All 8 events are free to register. For more information on all events, visit the Symposium main page.