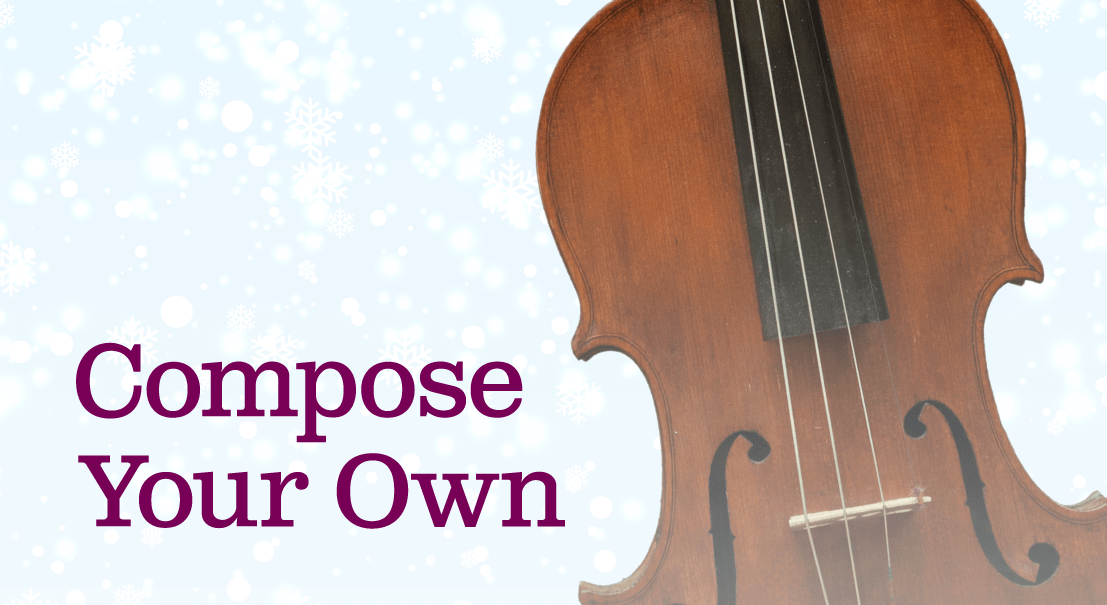 Buy 4 Get 1 Free!
Whether you're a fan of Beethoven or Aretha, there's a Compose Your Own package that's right for you. Classical fans will love the Blue group, while pop music lovers should check out the Purple group. And if you're fond of both – it's the red group for you! Don't miss out on this special holiday offer.
Call the Winspear Centre Box Office at 780-428-1414 to purchase your gift today!
Price level 5 excluded. Offer expires on December 21 at 5:00 p.m. Offer can only be redeemed by phone.
---
Compose Your Own (CYO) invites you to choose a concert series flexible to your schedule from a curated group that showcases fun pop songs, classical symphonies, big rock ballads, and light traditional melodies.
Choose a package from Purple, Blue and Red and SAVE 10% per concert.
Becoming a CYO subscriber is easy.
Choose 

3

 or 

4

concerts from a group of your choice:
Choose the Purple Group if you love hearing your favourite pop music including music from swing to rock, Christmas carols, love ballads, musicals, and hits by Aretha Franklin.


Choose the Blue Group if you love stunning classical symphonies, light melodies, and classic rock. You'll get a sampling of Mozart, Beethoven, and Nielsen while enjoying heartfelt melodies from American composers like Copland and Bernstein, and rock tunes from the Eagles and the 80s.


Choose the Red Group if you love traditional classics with famous pieces from Mozart, Beethoven, Mendelssohn, and Schumann with a light splash of pop selections for afternoon delights.
 *Please note: $10 handling fee applies. Not all prices and sections available for all concerts. All artists, programs, and dates are subject to change.
CYO allows you to pick the concerts that work with your schedule. Plus, you can enjoy a savings of 10%. The subscription can be as low as $95 for three concerts*. That's only $31 for each concert. 
Becoming a CYO subscriber unlocks benefits like:
No exchange fees
Free coat check
Multiple payment options
Presale opportunities
Partner restaurant discounts
Subscribe and Save! New this year, you can ORDER ONLINE.
 *Blue and Red Group 3 concerts package in Price Level 4.
Choose your group –

PURPLE

,

BLUE

or

RED

.
On the next page, select your performances one at a time – click the performance, then click the 'ADD' button. You can add up to 4 performances per group.
Click 'Continue'.
Choose your seating section and number of CYO seats. Please note – the number of seats must be the same per performance, but you can sit in a different price level for each performance, depending on your seating preference.
Patrons will be seated automatically based on the best available seat in their chosen price levels. Specific seat requests should be directed to box office at the standard email and phone number.
Click "Buy Now".
If you'd like to add another Compose Your Own group, click the "ADD COMPOSE YOUR OWN" button at the top of the page. You may also add special concerts or a subscription series by clicking the corresponding buttons. If you're ready to checkout, click "Proceed to Checkout" to complete your purchase.
Yes! You can purchase as many CYO packages as you want. Just click the "ADD COMPOSE YOUR OWN" button at the top of your cart when you complete your first CYO group. You will be directed back to the main page and can add another CYO group from there.
How many concerts are in a Compose Your Own group?
You can select 3 or 4 concerts in each group.
What discount do I get with my Compose Your Own?
CYO offers a 10% discount off the regular ticket price, and you receive the benefits of a subscriber such as waived exchange fees.
Are there any seat or concert restrictions for Compose Your Own?
CYO is available for Edmonton Symphony Orchestra concerts only. It does not include Specials, Symphony Under the Sky, Perfect Pairings, or Symphony for Kids concerts.
CYO is applicable to seats in PL1, PL2, PL3 and PL4. It excludes PL5 seats.
How many concerts/tickets can I get with Compose Your Own?
You can select 3 or 4 Edmonton Symphony Orchestra concerts within your group with the same number of seats purchased for each concert. For example, if you want 3 seats for a concert, you will purchase 3 seats for all the concerts within your CYO group. Additional tickets can be purchased at regular price.
Can I purchase Compose Your Own across price levels?
Yes! You can build your CYO seating for different concerts any way you want, but the difference of the final price will not match the advertised price.
Do I have to purchase my Compose Your Own concerts within a concert grouping?
Yes! The CYO groups are curated for concerts that you would enjoy and allows you to get a sampling from series that complement each other.
Am I a subscriber if I purchase Compose Your Own?
Yes you are! You gain access to all the subscriber benefits, including waived exchange fees, presale opportunities, free coat check, multiple payment options, and partner restaurant discounts.
Can I purchase multiple Compose Your Own packages?
Yes you can! You can plan out your season with friends or family and select concerts that work with your schedule to the concerts you and others will enjoy.
Can I use my Compose Your Own for one concert?
CYO series are in groups of 3 or 4 concerts. The same number of tickets must be purchased for each concert. Plus, it's more fun to go with a friend or family member to experience different concerts throughout the year.
Can I get a different number of seats for each concert in my Compose Your Own?
For each group you must select the same number of seats per concert to get the benefits of CYO. You can purchase additional tickets at regular price.
REGULAR HOURS
In Person and By Phone
Monday to Friday: 10:00 AM to 5:00 PM
Saturday: 1:00 PM to 5:00 PM
Sunday: Closed
Phone: 780-428-1414
Toll-Free: +1-800-563-5081
E-mail: box.office@winspearcentre.com
SUMMER HOURS
In Person and By Phone
Monday to Friday: 10:00 AM to 5:00 PM
Saturday to Sunday: Closed
Regular Saturday hours will resume in September 2019.