Spring Break Camps
New Program

6-13 Year Olds | March 28 - April 1, 2022
Join us for Spring Break at the Winspear Centre as we sing, laugh, play, and engage in music-making together. Your child will receive group instruction time, individual attention, and support from our qualified teachers on their choice of either the Violin or Ukulele. Participants will also have fun experiencing other instruments and the joy of music altogether during the camp.
In addition to playing instruments, there are opportunities for your child to further explore the Winspear Centre, play lots of games, meet new friends, and showcase what they've learned at the end of the week in a special sharing concert! Fill Spring Break time with string time and enjoy a fun week of melody, harmony, rhythm, and more! 
Camp details
$399 | 5 full days
Instruments are provided
No prior music instruction is required
Camp schedule is 9 AM – 4 PM daily
Capacity of 20 campers per camp
Thank you for a great week 2022 campers! Stay tuned for Spring Break Camp 2023!
---
Camp Options
---
---
Meet the instructors:
Nathan Chan
Violin Instructor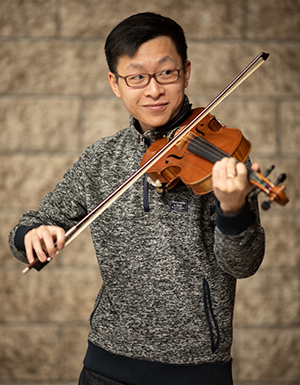 Stephanie Jolly
Ukulele Instructor
---
Parent feedback from our Summer Day Camps:
"My daughter loves the camp and loves music. It is a high-quality camp where I know she will learn and have fun."
"Thank you to everyone. I really appreciate this opportunity. Kids need to be more involved with instruments and music. I was really impressed with the result. Everyday my child would come back with not only music, but the whole world of music. Love it."
"We thought it was planned out very thoughtfully and thoroughly to conform with all the recommendations/regulations from AHS/Public Health. There were many precautions taken, but our child still had fun, and we felt comfortable sending him to camp everyday."
---
Vaccination & Safety Policy
All guests ages 12 and over must show proof of vaccination prior to entry.
Everyone aged 18 and over must show photo ID.
Mask-wearing is mandatory in all indoor public places.
Cancellation/Alteration Policy
Cancellations made one month prior to the beginning of camp will receive a full refund.
---