Spring Break Camps
Bestseller Stay Tuned For Next Year

Violin & Ukulele | 6-12 Year Olds | March 27 - March 31, 2023
Have the best Spring Break ever by joining in the fun at the Winspear! Each day will dive into learning an instrument (either violin or ukulele), interspersed with art-making, singing and dance. You'll get to explore the Winspear, hear our incredible concert organ, and maybe even meet some of our musicians! Join us for a joyful week of music-making, playing games, meeting new friends, and top it off with an exciting showcase of what you learned in a sharing concert for family and friends. Make your Spring Break time a "string-break" time with the Winspear!
Camp details
$390 | 5 full days
Instruments are provided
No prior music instruction is required
Camp schedule is 9 AM – 4 PM daily
---
Camp Options
---
Meet the Instructors
Lilian Belknap
Violin Instructor
Lilian Belknap is the Associate Director of Musical Creativity at the Winspear Centre. She has taught violin and viola for numerous programs across North America and abroad, including Sistema Toronto, Ecole FACE School in Montreal, Point CounterPoint Chamber Music Camp, Cultures in Harmony and the Boston Youth Symphony Orchestras. She holds performance degrees from McGill University and the Cleveland Institute of Music, and has been an active performer of orchestral, chamber, contemporary and pop music. She has recently moved with her family to Edmonton is excited to be joining the Winspear team.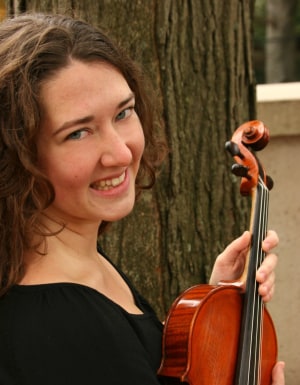 Stephanie Jolly
Ukulele Instructor
Music started in Stephanie's life at a very young age. She began taking private singing lessons at the age of five years old. As she continued with singing, she began trumpet and piano lessons at the age of 7. Stephanie completed her Bachelor of Music at the University of Toronto, specializing in music education, and Bachelor of Education at Brock University. She has taught vocal and instrumental music for several years in the classroom and has taught private and group lessons for voice and piano. Stephanie is currently the Musical Creativity Coordinator for the Winspear Centre, where she teaches classes through Music Box Babies and Sound School.
---
SAFETY POLICY & COVID PROTOCOLS
Our Covid protocols will be responsive to health and safety conditions at the time of your visit. Masking may be required for staff and participants. Prior to your program, we will be in contact with any protocols that are in place.
Cancellation/Alteration Policy
Cancellations made one month prior to the beginning of camp will receive a full refund.
---