Edmonton Symphony Orchestra presents Chamber Music at the AGA
We're bringing music and art together this summer! The Alberta Gallery of Art has partnered with Edmonton Symphony Orchestra to present weekly performances at your AGA throughout the month of July. Join us every Thursday at 5pm and every Saturday at 3pm to enjoy these mini-concerts. Best of all, they are included with your membership or AGA admission so be sure to come early to explore our recently reopened exhibitions and finish your day by enjoying a performance from the ESO. To help us manage capacities and keep everyone safe, pre-booking is required here.
If you would like to support the Edmonton Symphony Orchestra, the musicians will be accepting donations onsite and every little bit helps. Online donations, and donations by cheque, will be eligible for a tax receipt. Thank you so much for your generosity!
For more information, visit Chamber Music at the AGA on the AGA website.
---
August 13 & 15, 2020
The Mendelssohn Octet
Register here

Featured ESO Musicians:
Robert Uchida, concertmaster
Neda Yamach, violin
Susan Flook, violin
Heather Bergen, violin
Ethan Filner, viola
Clayton Leung, violas
Rafael Hoekman, cello
Ronda Metszies, cello
Dianne New, violin
---
August 6 & 8, 2020
Nora Bumanis and Friends

Featured ESO Musicians:
Nora Bumanis, harp
Ewald Cheung, violin

Dianne New, violin
---
July 30 & August 1, 2020
Quintet in C major

Program:
Quintet in C major D. 956 by Franz Schubert
Featured ESO Musicians:
Robert Uchida & Laura Veeze, violins
Ethan Filner, viola
Rafael Hoekman & Meran Currie-Roberts, cello
---
July 23 & July 25, 2020
Eine Kleine Nachtmusik / Terzetto

Program:
"Eine Kleine Nachtmusik" by W.A. Mozart
"Terzetto" by Antonín Dvořák
Featured ESO Musicians:
Dianne New & Joanna Ciapka-Sangster, violins
Rhonda Henshaw, viola
Derek Gomez, cello
Janice Quinn, bass
---
July 16 & 18, 2020
"Rossini Crescendo" concert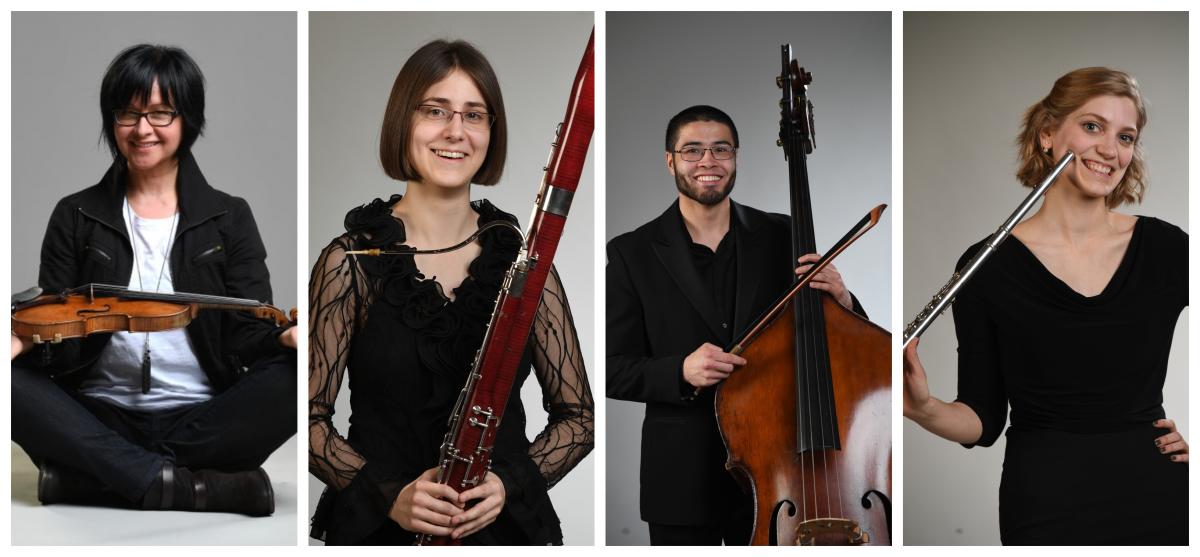 The Edmonton Symphony Orchestra presents chamber music at the Art Gallery of Alberta. "The Rossini Crescendo" is 25 minutes long, featuring musical works of 5 minutes or less, and is ideal for families. Featured ESO musicians:
Stephanie Morin (flute), Bianca Chambul (bassoon), Anna Kozak (violin), Douglas Ohashi (bass).
Anita D. Perry (1960-), "Pan" (1979) for solo flute
Heitor Villa Lobos (1887-1959), "Bachianas brasileiras No. 6, W392" (1938) for flute and bassoon
Franz Joseph Haydn (1732-1959), London Trio No. 1, "Divertimento in C major" Hob.IV:1 (1794), Allegro moderato for flute, bassoon and violin
Gioacchino Rossini (1792-1868), "Sonata in A major" (1804), Andante & Allegro for flute, bassoon, violin and bass
This is an un-seated open air event on the City of Edmonton Terrace; rain or shine.