John Williams: The Man, The Myth, The Legend
By D.T. Baker
On February 8, John Williams turned 90 years old. He continues to do what he does best: compose memorable and expertly-tailored scores for movies. It would be easy to think that he has always done this, which is close to being true, but doesn't tell the whole story.
We think of John Williams and we think of spectacle. The Star Wars franchise, the Harry Potter films, every other screen hero Hollywood has cranked out since the late 70s – and of course, his long collaborative relationship with the films of Steven Spielberg. He has been nominated for 52 Academy Awards, second all-time only to Walt Disney (59). He has won five Oscars. Several times, he has been nominated in multiple categories – and he has also been his own competition, being nominated for best score for two different movies in the same year on several occasions.
More stats: There are the three Emmys (out of six nominations), four Golden Globes out of 25 nominations, and 25 out of 71 Grammys. The point is that brazenly calling a program John Williams' Greatest Hits, which the Edmonton Symphony Orchestra has done for its performances taking place April 21 to April 24, and keeping that program to a running time that would not involve sleepovers, takes some doing. But we're gonna try.
Like many an aspiring film scorer, John Williams' apprenticeship was pretty standard stuff. Eastman and Juilliard, then piece work in Hollywood, editing the music of others, writing bits of underscore. But he got to work with legends like Bernard Herrmann, Franz Waxman, and Alfred Newman. If you watch a lot of old TV shows, you might see "Johnny Williams" (as he was called back then) credited with writing the filler music in the 1960s. He wrote the theme songs to some classic TV shows too: The Time Tunnel, Voyage to the Bottom of the Sea, and others. Oh, and if you're a fan of Henry Mancini's memorable Peter Gunn theme, that's John Williams playing the famous piano riff.
His work was good, and it got him established. He was given some films to score himself, and after a few shorts and B-movie credits, he got his first Academy Award nomination for Valley of the Dolls in 1967. The budgets of the movies he was offered were now bigger, and his reputation spread quickly. The "master of disaster," director Irwin Allen, hired him – and he also got the chance to score one of John Wayne's last films, The Cowboys.
Two years after that, Steven Spielberg came calling. He and Williams first joined forces for The Sugarland Express, and it began a relationship that has lasted nearly 50 years, with only a handful of Spielberg's movies NOT scored by Williams. Their extraordinary partnership is marked on our program with seven of the selections scheduled taken from Spielberg films.
It is altogether fitting that Williams' storied career requires a full symphony orchestra. In the 1970s, movie music had changed from the blockbuster scores of decades past. Movies themselves were leaner, the stories were often grittier, and music was written for smaller ensembles, reflecting both the times, and the budgets of the movies being made. But with Steven Spielberg's JAWS in 1975, the "summer blockbuster" tradition was born, and with it, the large-scale film soundtrack came back.
It's not that John Williams simply gets to write music for all these great films. He tailors each score masterfully, and while we can hum so many of his great themes from his scores, somehow, Williams' music paints just the right picture every time. He serves the movie first and foremost – while giving us all those great melodies. His classical training, for example, gave the music he has written for nine Star Wars films a continuity (stretched over 45 years!) that rivals Wagner's Ring in its use of leitmotifs and crucial thematic elements. But heroes and epics are not his only stock in trade. There are smaller films, quirkier films, films for which he has merely provided his invaluable experience and advice.
One particular John Williams achievement is my personal favourite because it actually seems wrong, somehow. While he was still a rising star in the business, Canadian director Norman Jewison took on the formidable task of bringing the Broadway hit Fiddler on the Roof to the screen. Williams was hired to adapt the amazing music already written by Jerry Bock, to make it fit the movie, and also write filler stuff for the film that was not included in the Broadway score. At that time, the Academy of Motion Picture Arts and Sciences had two separate Oscars for best score: original and adapted. John Williams won his first Academy Award for adapting Jerry Bock's music. Bock got nothing.
Fortunately, there was more than enough creativity and genius in John Williams that he has earned the accolades that continue to come his way. He has left an indelible mark, and the grand Hollywood film scores of recent years, and the composers now writing them, owe a debt to Williams that can never be repaid. He continues to work, too. He recently composed a theme for the upcoming Disney channel series about Obi-Wan Kenobi. Fittingly, he is also composing the scores for Steven Spielberg's The Fabermans (due out in November) and for the fifth Indiana Jones movie (due next year).
So, if we do another "greatest hits" concert again, you might want to pack some jammies.
---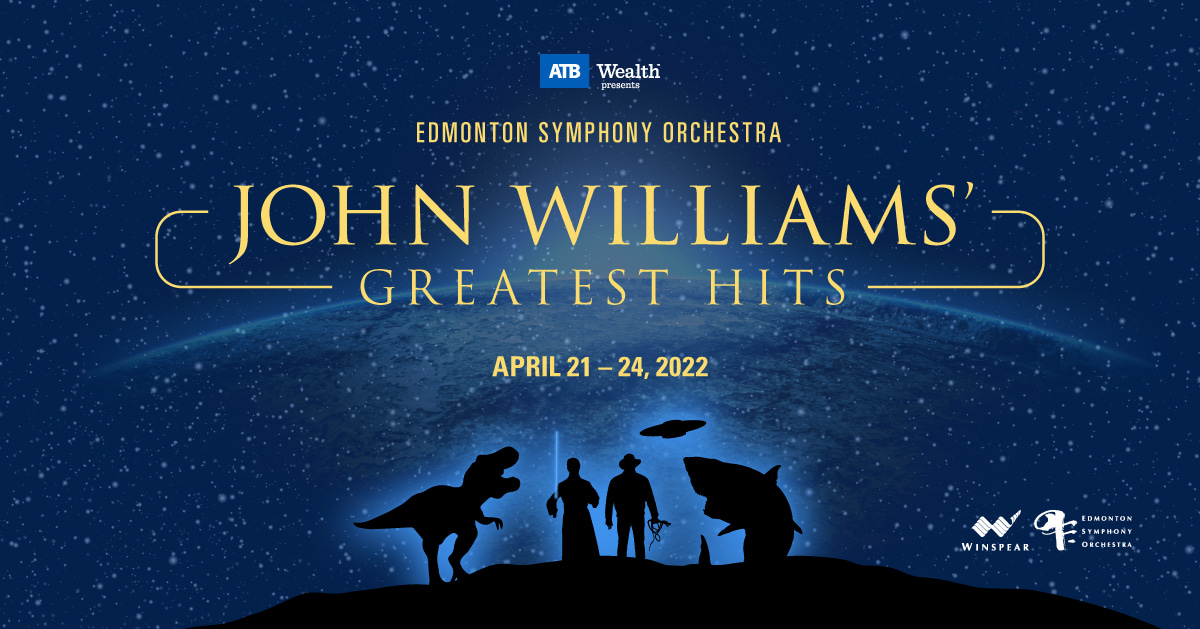 Tickets start at $25
Youth Tickets are $25 (matinée performances only)

Find Tickets