Musical Moment: The Charms of Cowboy Celtic
Posted On
April 8, 2022
Categories
Image credit: Kevin Martini-Fuller
By D.T. Baker, ESO Musicologist
At first blush, the name Cowboy Celtic might seem like an oxymoron – the odd combination of disparate musical cultures. But a lot of what we now call Country and Western music traces its roots to a Celtic past, and the diasporas of Scotland and Ireland to the shores of North America.
David Wilkie remembers the day he discovered that. "I was playing with Ian Tyson at the time; I played with him for five years," Wilkie recalls. "And there was a big cowboy event in Elko, Nevada in 1985, called The National Cowboy Poetry Gathering. It was after a late show, and I went to have a drink, and this big burly cowboy gets up, and starts singing the song 'Annie Laurie.' I wondered what's a big burly cowboy doing singing that? And that's where it all started.
The "it" in question is Cowboy Celtic, a musical coming-together of traditional and original music that has led to countless shows, eight recordings, and the upcoming symphony shows with the Edmonton Symphony Orchestra taking place May 12-14. Wilkie still seems a little surprised that the original idea – a one-off recording never to be done again – has stretched into 25 years and counting. You get the feeling that it's hard even for the members of the group to know where the traditional music ends and the new music begins.
"I try to make the songs sound traditional. Like with some of them, I try to make it sound like a Child Ballad, and as an example, a couple of well-known musicians recorded a song I wrote about the borderline cattle reviving in Scotland, and they thought it was traditional," Wilkie says, relating a favourite anecdote of feigned wrongdoing. "So Denise went to one of their shows, and they did the song, and afterwards Denise went up and said, 'You did a great job. Dave will be thrilled!' They were horrified when they found out I wrote it, but for me, it was a huge compliment. And I like their version way more than mine!"
Denise, by the way, is guitarist and vocalist Denise Withnell who, along with Keri Lynn Zwicker, Joe Hertz, and Nathan McCavana, make up the current lineup of Cowboy Celtic. Zwicker is likely a familiar name to ESO audiences, as she is often called upon to sit in as a substitute or second harp when necessary. A solo recording artist herself, Keri has been a part of Cowboy Celtic for 23 years. Having played with orchestras, as well as the band, she has a unique perspective on making it work.
"When we perform as a group, we're so in tune with each other, we can respond in the moment," she explains. "We've been playing together so long that if somebody drops a chord or takes extra time to solo, we're on it. But when you're with an orchestra, you have this concrete machine behind you that is not as flexible as you are. But you really feel like you have this amazing support, and you have this beautiful wall of sound behind you. And as somebody who's been in back of the orchestra, usually, it's incredible."
Another talented Albertan, Red Deer Symphony Orchestra Music Director Claude Lapalme, has done the orchestral arrangements for Cowboy Celtic's symphony show. "We were looking for an arranger," says Denise, "as our agent in Colorado Springs was involved with the symphony there and promised us symphony shows [that never materialized] in the U.S. Claude had done arrangements for Ian Tyson, so we got in touch with him."
The Cowboy Celtic symphonic show is making its ESO debut at these upcoming performances. It has previously been presented in Red Deer, Kamloops, and Cranbrook. Keri Zwicker says the essence of the orchestral elements of the show remain basically the same, but there are also sets that feature just Cowboy Celtic – and even a song or two from Zwicker's solo catalog.
When we're talking about "sets," it's a reference to how a lot of traditional Celtic music is presented. Anyone who has listened to recordings of bands such as The Chieftains, Altán, or Capercaillie will see that often, sets of dances make up a single "piece." Two reels which complement each other, or three jigs. Cowboy Celtic has done much the same, mixing in original pieces composed by David Wilkie (often in collaboration with other musicians) alongside traditional ones.
"I've got ideas for jigs and reels, and (Cowboy Celtic) do too, so we start working them out and adding them together," says Wilkie of the process. "And as you know, in the Celtic world, they do things in sets, so we try to do that – a reel here, a jig there. And I compose a lot of the songs too, so I try to keep a theme going."
"Like with 'Nate Champion'," Keri Zwicker adds. "Dave wrote some original music and lyrics. We take that into the studio, and a musician who was playing on it said, 'Oh, I have a song to go with that.' And it was a traditional tune."
There's a very good chance that if you attend the Cowboy Celtic Meets the ESO show, you'll hear a song, but you'll know different words for it. Or you'll hear words set to a tune you weren't expecting. That was a common occurrence when Celtic music arrived in North America over the centuries. As they made their way across the continent, songs would become adapted to the realities of the new North American life, and would eventually give birth to what was pejoratively called "hillbilly" music once upon a time – the birth of country music and, by extension, an important component of rock and roll, eventually. Wilkie says that when Cowboy Celtic has performed in places where Celtic music took root, he hears differences all the time.
"We did a show in Scotland, in Dundee, I think, and we were doing 'Whoopie Yi Yi Yo, Git Along Little Dogies,' and the crowd knew it and were singing it, but with different lyrics," he recalls.
"Dave has a song on the show called 'Mandocarolan,' and it's so much written in the vein of Turlough O'Carolan (an Irish harpist and songwriter who lived into the early 18th century,) and it's very harptistic, and I use it all the time at weddings, and people don't know that it's a newly written song."
The best blend of disparate music is one in which the splices between new and old are so seamless as to be invisible, and the net result is as refreshingly new as it is comfortingly familiar. Cowboy Celtic has done this with their music, and Claude Lapalme has done it again in bridging a spontaneous folk style to the discipline and beauty of a symphony orchestra.
---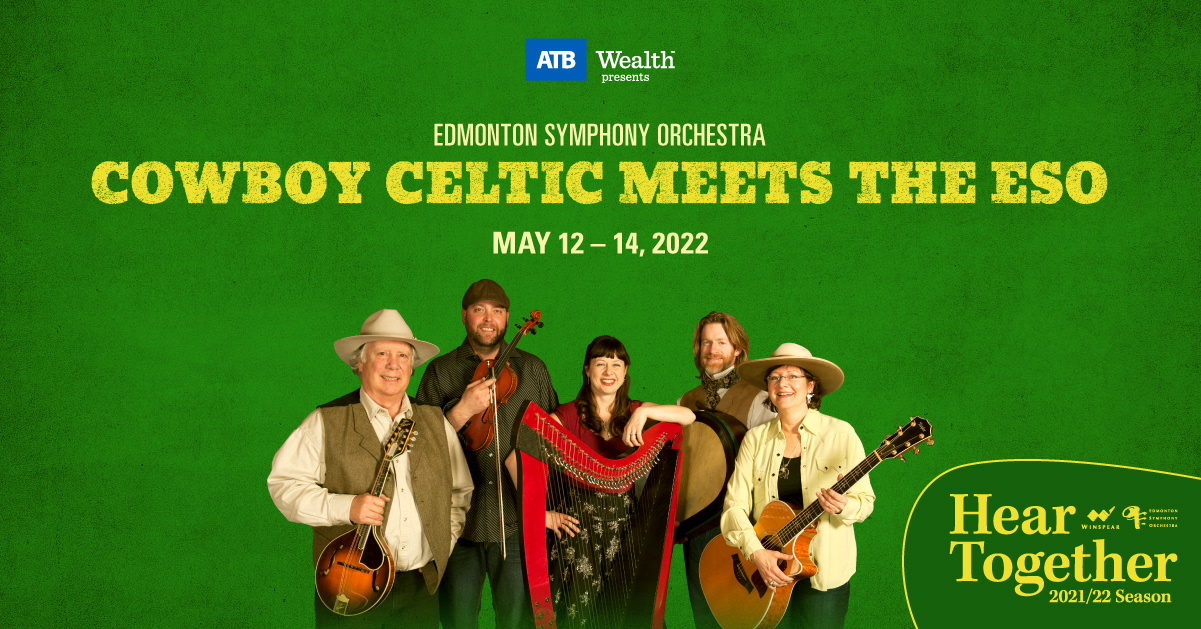 Tickets start at $25
Find Tickets