Valentine's Day Date Night with ESO Virtual Stage
Still working on plans for Valentine's Day date night? The ESO has you covered. This Valentine's Day, experience ESO Virtual Stage in the comfort of your own home. Not only do we have seven high-quality recordings for you to enjoy, but we also have the stories behind the compositions, and recommendations for drinks and snacks that will pair well with each video.
---
1. Brahms: String Sextet No. 2 in G Major, Op. 36
Brahms: String Sextet No. 2 tells the story of Brahms' unrequited love for the soprano Agathe von Siebold. Unfortunately, their romance fell apart before this piece was finished, which Brahms alludes to within the music. If you listen carefully, the first movement shares the haunting yet compelling attempt to rekindle the romance, the second movement is strikingly nostalgic of the times that once were, and the third movement tells the story of Brahms moving on from Siebold – not triumphant, but still with positivity and hope.
PAIRING RECOMMENDATION:
Tea + Shortbread

This piece for a string sextet brings the listener through a whirlwind of emotions. From warm and somewhat mysterious, to sober and intense, and ending with a heartfelt and tender melody. This piece is best enjoyed with a warm cup of tea and some shortbread to bring you comfort throughout the haunting melody in this unusual Brahms composition.
---
2. Bach's Cello Suite No. 1 in G Major
Bach's Cello Suite No. 1 is a particularly unique Bach composition, because before these cello suites came to life, there had been very few attempts at composers writing for unaccompanied solo instruments that weren't the keyboard. Though officially unconfirmed, it is believed that Bach wrote these cello suites to reflect his grief – he had left home for three months, and when he returned his wife of 13 years had died and been buried. These cello suites, then, represent a funeral tribute for Bach's lost wife.
PAIRING RECOMMENDATION:
Dark Chocolate + Stout Beer (or Brown Ale)

The lower pitch throughout this suite goes perfectly with some dark chocolate, especially ones with sea salt, and a stout beer or a brown ale. Bitter foods pair best with the lower sounds and the emotion portrayed in this classic piece.
---
3. Franz Strauss' Nocturno, Op. 7
There's a certain beauty to this Noctorno that emerges from the gorgeous pairing of horn and piano. Though there is no known story behind the writing of this piece, it's arguable that the story exists within the piece. We begin with a tender horn melody that leads the piece until the piano accompaniment joins in, quietly at first, and then more fully. A swing of passion takes over, before returning to the original lush and romantic mood, ending with a sweet farewell. One beautiful aspect of music is that we can connect it to our own stories, and this offering allows listeners to engage with Strauss' Noctorno on a deep and meaningful level.
PAIRING RECOMMENDATION:
Red Wine + Milk Chocolate

There is no better way to enjoy the "night song," a romantic melody for piano and horn, then with a glass of red wine paired with some delicious milk chocolate. We suggest a Merlot as your wine of choice to enjoy this piece, but any medium-bodied red will do the trick.
---
4. Capriccio & Largo-Double-Largo
Though we have details about many famous and well-known composers, there are some composers whose lives are shrouded in mystery. Jean Daniel Braun is one of these composers – as ESO Musicologist D.T. Baker notes, "what we know of the life and career of Jean Daniel Braun pales in comparison to what we do not know." About these two excerpts from Twenty-Four Solos, we also know fairly little, save for the fact that they were originally written for the flute, but transposed to bass clef to suit the bassoon.
PAIRING RECOMMENDATION:
Espresso + Biscotti

With the masterful dexterity and breathing required by the player, the perfect snack pairing to enjoy this Virtual Stage release is a cup of espresso and a biscotti to go with it. The rush of energy from the espresso mimics the central pacing of the piece where the tempo doubles. When the slower pace returns, that is a great cue to reach for a bite of biscotti. By the end of the piece, you won't know if your heart is racing from the caffeine or the music.
---
5. Saint-Saëns' Fantaisie for Violin & Harp, Op. 124
Certain composers hold musical preferences close to their heart, and Camille Saint-Saëns is no exception. Saint-Saëns prefers balance – bringing themes from the beginning back to the end and ensuring that instruments all got their moments in the spotlight. Fantaisie was written for two sisters – a harpist and a violinist – and is a beautiful and ethereal piece in which to get lost.
PAIRING RECOMMENDATION:
Riesling + Brie

Pair this unusual piece by Saint-Saëns with a sweet Riesling and some brie. These fresh and bloomy notes from this pairing bring to life the airy nature of the harp and violin paired together. To add more depth to this pairing, add your favourite cracker or a nicely toasted baguette slices for a different texture and to echo the mood changes throughout the work.
---
6. Fantasia on Greensleeves
Though it has been adopted as the popular carol What Child Is This?, Ralph Vaughan Williams' Fantasia on Greensleeves was originally a famous medieval folk song. Did you know – the song is called "Greensleeves" in reference to medieval women who advertised that they were selling their affections by wearing sleeves of green? It is a beautifully recognizable tune, known to nearly everyone who hears it, especially when it is played in a holiday context.
PAIRING RECOMMENDATION:
Apple Cider + Cinnamon Sugar Donut (or Apple Pie)

If you are still in the holiday mood, even in the midst of February, enjoy this Virtual Stage release with a warm cup of apple cider and a cinnamon sugar donut, or a piece of apple pie.
---
7. Mozart's "Posthorn" Serenade in D Major
Music is written and celebrated for many reasons – births, deaths, loves, and losses are just some of the most popular reasons that music is created. Mozart's Posthorn Serenade was written in celebration, to mark the end of the Salzburg school year. The fourth movement, the Rondeau, provides listeners with a beautiful feeling of success and completion, with a touch of excitement about the future.
PAIRING RECOMMENDATION:
White Chocolate + Sparkling Wine

The flute and oboe sprinkled throughout this piece give it a sweet, light, and airy feel, which pairs perfectly with some white chocolate and a sparkling wine, such as a Moscato d'Asti. White chocolate goes best with a sweet sparkling wine (something with 10% or less alcohol by volume) and this Mozart Rondeau.
---
Learn More
---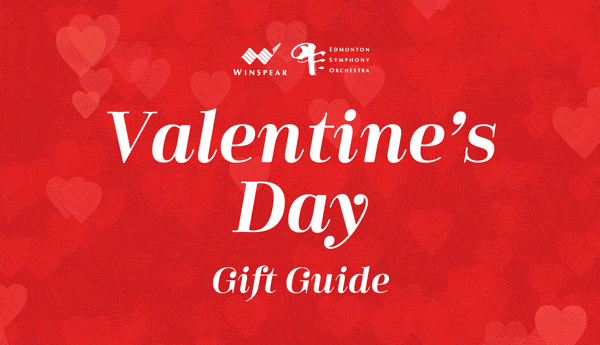 Special Offer
Find the perfect gifts for your loved ones and be entered for the chance to win a romantic Bed & Breakfast package at the luxurious Fairmont Hotel Macdonald.
Use the promo code LOVE to be entered into the draw.
Learn More
Special offer ends February 14 at 11:59 PM (MT). View contest rules here.