ESO Monthly Memberships
Your All Access Pass to the
Edmonton Symphony Orchestra

✓ Get $10 tickets to any ESO concert
✓ Choose from 65+ performances
✓ Get exclusive membership benefits
How It Works
All Access Pass • Unlimited Concerts • Affordable Monthly Fee • All Year Long

Sign Up
For only $39 a month, an ESO Monthly Membership allows you to book a $10 ticket* for an unlimited number of concerts throughout the year. One membership is good for one ticket per performance.

Purchase Tickets
Enjoy the flexibility to choose your concerts when it suits you best, or take advantage of early access and book the best seats available. Membership covers Classics, Pops, Pairings, Symphony For Kids, New Music, and now Specials!

Enjoy your ESO
Experience world class concerts at an affordable price, plus all the extra perks! The more concerts you attend, the more value you'll receive. If you're not happy with your ESO Monthly Membership, you can cancel any time.*
Become A Member
Your ESO, Your Schedule, Your Terms
Life is unpredictable. Do you want to see your ESO more often, but can't commit to dates six months from now?
We get it. Schedules fill up fast. Plans change. Life happens. With the ultimate flexibility of the Monthly Membership program, you can decide to see your ESO the day of, or weeks before. It's your choice.
Torn between Tchaikovsky and Gershwin? John Williams or Mozart? There's no need to choose between Pops or Classics, Symphony for Kids or New Music. You can literally see it all with your all-access Monthly Membership.
The best part? At only $10* a ticket, a Monthly Membership is the best way to save when seeing your ESO. The more you attend, the more you save.
Your exclusive perks for becoming a member:
Early access
Book the best seats before they go on sale to the public.
Free coat check
Enjoy your concerts with even greater comfort and ease.
Restaurant discounts
Check out our partner restaurants for some sweet deals.
No exchange fees
Buy tickets with confidence knowing that you have complimentary ticket exchanges.
Reduced Access Fee
Save money during off season ESO months – monthly fee is reduced to $5 to maintain access.
Become A Member
Enjoy the advantages of membership:
ESO Monthly Membership
Series Subscriptions
Compose Your Own
Lowest Price Per Ticket
$10

*

$22
$30
Highest Savings Per Ticket
90%
39%
10%
Available Performances
65+
3 – 12
3 or 4
Performance Date & Time
Any
Predetermined
Any
Eligible Series

Classics
Pops
Pairings
Symphony for Kids
New Music
Specials

Classics
Pops
Pairings
Symphony for Kids

Specials Price
$10

*

As low as $28 (by add-on)
As low as $28 (by add-on)
Different Seat Options
✔

X

✔
Price Levels
2 – 4
1 – 5
1 – 4
One-time Payment Option
✔
✔
✔
Split Payment Option
Monthly
($39 / month)
2 Payments

X
We think you'll love ESO Monthly Membership, but don't take our word for it – current members sing its praises:
"The ESO Membership offers great flexibility at an affordable price, and I enjoy hearing music from a variety of genres and time periods."
"The monthly membership fee motivates us to go at least once a month. The $10 ticket price motivated us to go to more concerts per month than in the past."
"I enjoy attending several performances and experiencing new series I wouldn't otherwise look at – the cheap ticket price lets me take a risk and be pleasantly surprised."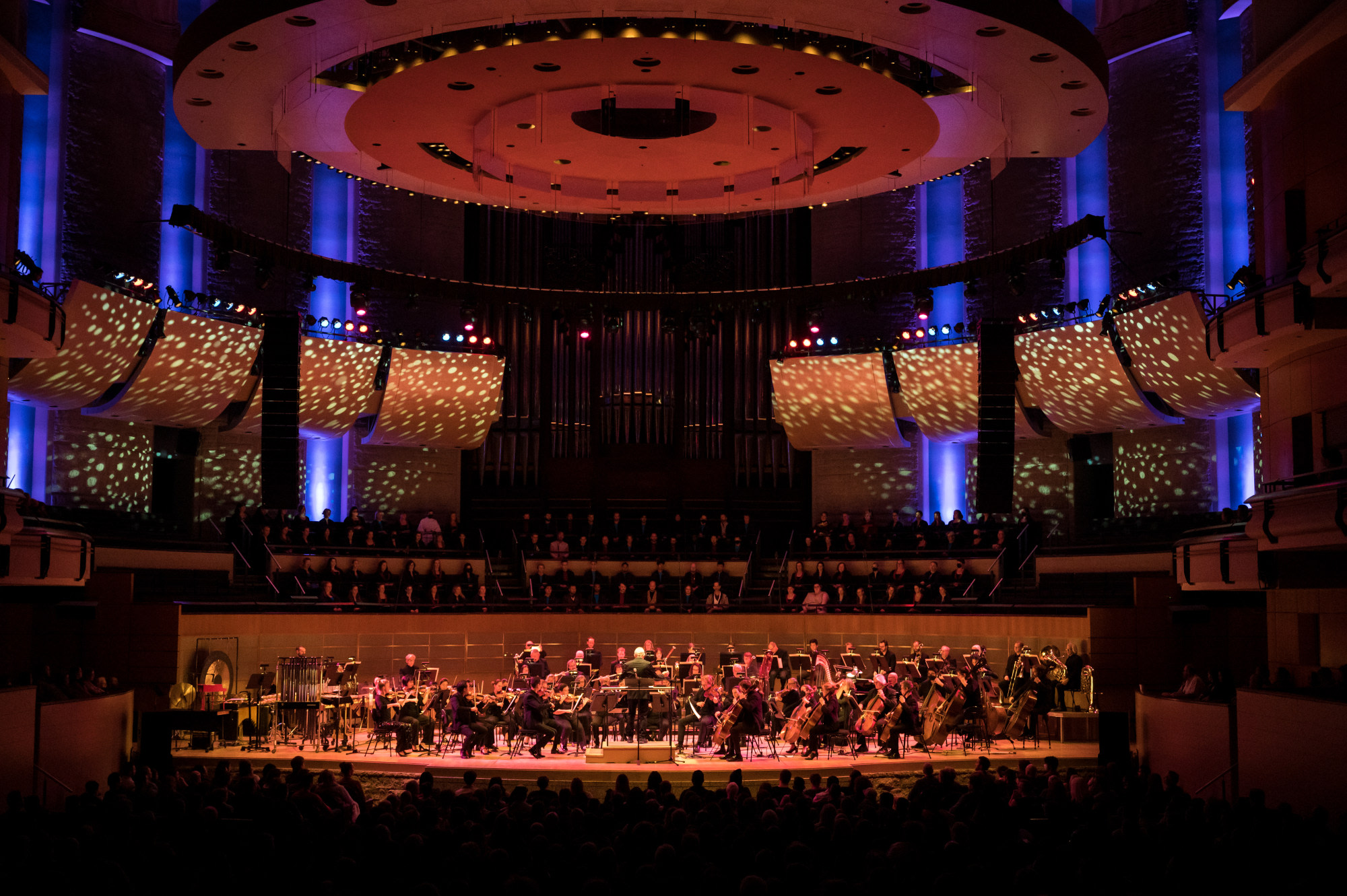 What are you waiting for?
Become an ESO Monthly Member today.
Don't miss out on the unlimited magic and immense flexibility of membership!
Your $10 tickets are waiting for you.
Join Now
Winspear Box Office is available Monday to Friday from 10:00 AM to 4:00 PM by phone and email.
For more information on the box office please check here.
Frequently Asked Questions
Click a button below to open/close
Membership Cost and Details:
Membership is $39 a month. Membership allows you to purchase a ticket (one seat) for as many Edmonton Symphony Orchestra concerts as you like for only $10 per ticket, plus service fees of $3.00 per ticket.
One ESO Monthly Membership equals one ticket / seat per concert.
One household can purchase up to eight memberships. If your household has two people who would like to attend concerts together, you should purchase two memberships in order to purchase seats for both people attending a concert.
If you purchased an annual membership, it will automatically renew on July 1, 2023, unless you opt out of membership by June 23, 2023, at 11:59 PM Mountain Time. If you have chosen monthly payments, your card will be charged on the 1st of each month (or the next business day). If you pay yearly, your payment for the 24 season will be on July 4, 2023 You can cancel your membership at any time after you have paid for two consecutive months. You may opt out of membership by emailing the Box Office team at box.office@winspearcentre.com or calling 780.428.1414.
Yes! Anyone may purchase both an ESO Monthly Membership and subscription. This is an excellent way to see not only your favourite series but also concerts in other series, while saving money.
Your membership is ongoing but for months with no ESO concerts in the Winspear Centre concert hall – July, August, September, and January for 2023/24 season – you will save money! You will only be charged a $5 access fee instead of the regular Membership fee for those months. And, while there are no concerts in the Winspear Centre in August 2023, you can purchase $10 Membership tickets for Symphony at Snow Valley instead of paying full price.
After you have had a membership for a minimum of two (2) months, you can cancel your membership any time up to three business days before your next payment is due, in order to give us time to process your cancellation. However, if you have any tickets booked for upcoming concerts, you will need to pay the difference between your membership price and the regular ticket price within 72 hours of cancelling your membership. If you don't pay to upgrade your tickets, your seats will be released, and the cost of the membership tickets will be refunded to your original method of payment.
You may either renew your Membership for the month that you have purchased concerts in, or you may pay the difference between the Membership price and the single ticket price.
For example: if you cancel your Membership in February but have already purchased tickets for concerts in March, you would have to pay the difference in price for those March concerts. You would not be charged an additional amount retroactively for any concerts that you attended prior to March.
Memberships are non-transferrable. Any violations of this policy may result in the termination of your membership. However, if you'd like to purchase a membership for someone else as a gift, you may do so by contacting the Box Office at box.office@winspearcentre.com or calling 780.428.1414.
Concert Tickets and Booking:
You can purchase a ticket for any Edmonton Symphony Orchestra concert at the Winspear Centre for only $10 per ticket plus service fees ($2.50 per ticket). This does not include Live At The Winspear concerts or concerts being hosted by other artists.
ESO Monthly Membership allows you to purchase seats in Price Levels 2, 3 and 4 for Classics and Pops concerts, and Price Level 2 for New Music, Pairings and Symphony for Kids concerts. For ESO Specials, you can book Membership tickets anywhere except Price Level 1 and the lowest Price Level.
There is no limit! Your Monthly Membership allows you to purchase tickets for yourself for as many concerts as you like, at only $10 a ticket plus service charges. Remember, if you are planning on coming with a friend or partner, you will need one Membership per seat. All concert tickets are subject to availability.
Members may begin booking concert tickets for the 23/24 ESO Season on July 19, 2023, at 10 AM Mountain Time. If you pay for your Membership on or after July 19, please allow up to 15 minutes for your Membership to be processed before you begin booking tickets. Your exclusive presale period ends on July 26, 2023, at 9:59 AM Mountain Time.
We have three main summer concert series for 2023: ESO Outdoors, Symphony at Snow Valley, and Symphony in the Square. Members can purchase $10 tickets for Symphony at Snow Valley, taking place from August 23-26, 2023. Members can choose to donate to attend any ESO Outdoors concerts, which are Pay-What-You-Can and take place on August 17-20 and August 27. Symphony in the Square on September 1 & 2 is a free event with no tickets required. To view more details about summer programming and locations or to purchase Member tickets for Symphony at Snow Valley, click here.
This evolved membership first launched in August 2021. There are several exciting updates to membership for the 2023/24 season, including membership pricing for ESO Specials.
Memberships are not connected to specific seats, like subscriptions are. However, Members do get early access to booking seats.
ESO Concerts at the Winspear Centre for the 2023/24 season begin on October 5, 2023. Click here to view upcoming performances.