Evolution of the Arts in a Digital World Symposium
Are you an arts organization trying to find new ways to integrate digital technology into your daily activities?
Is your organization looking to engage your audience in new, tech-friendly ways?
Are you feeling nervous about taking the next step towards going digital?
If so, look no further than the Evolution of the Arts in a Digital World Symposium. We're taking a no-nonsense approach to the question of digital technology that engages our speakers and attendees in practical conversation about the new digital world we've found ourselves in. Plus, our entire Symposium is completely free!
Watch the presentations for free
Evolution of the Arts in a Digital World Symposium
presentations are available to watch on our ESO YouTube Channel.
WATCH VIDEOS
Read the presentation notes
Evolution of the Arts in a Digital World Symposium
presentation notes are available in both English and French.
READ NOTES
Session Information
Click a button below to open
Why Digital?
Wednesday January 6 • 10:00 AM - 11:30 AM MST
Via Zoom
Presented by:
Annemarie Petrov | President and CEO of the Winspear Centre and Edmonton Symphony Orchestra
Tateo Nakajima | Arup Fellow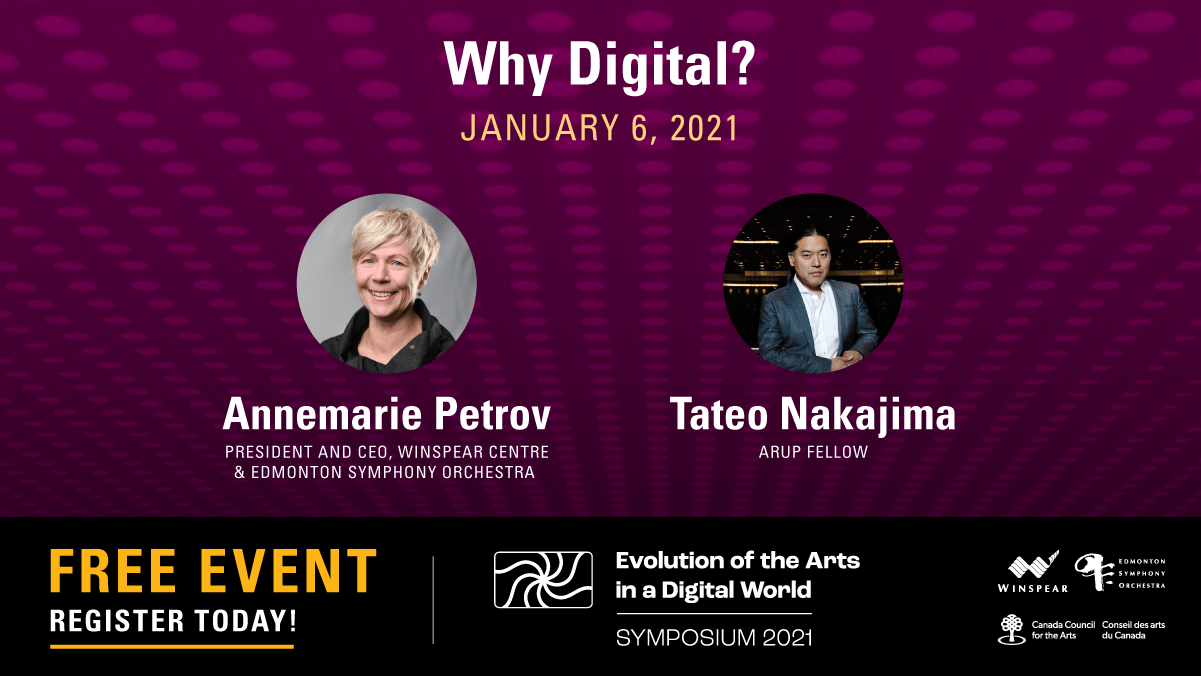 ---
About the Presentation
The ways we can interact with the world around us are infinite, and the technologies we have at our fingertips are powerful engines for participation. That said, 'digital' can mean so many things, and the movement towards integrating technology is hard for not-for-profits in particular. We are innovative and efficient with the resources we have; however, we require more knowledge and expertise to move digital initiatives forward in particular. Digital knowledge is not a luxury: it is a must-have, and the goal of our symposium is to ensure that non-profits and arts organizations all benefit from the sharing of digital technology and digital strategy.
Why Digital? will address exactly this: why digital technology is important, and why it has become increasingly so in the past year. Our presenters, Annemarie Petrov, President and CEO of the Francis Winspear Centre for Music and Edmonton Symphony Orchestra, and Tateo Nakajima, ARUP Fellow, will discuss the benefits and costs of digital technology, including:
Technology in physical gathering spaces
How non-profit arts organizations can find new ways to bring their community together utilizing technology
Using technology to reinforce organizational values, brand, and vision.
Together, we will break down barriers and misconceptions surrounding digital technology and explore some of the many ways in which it can benefit our organizations, our patrons, and our communities.
About the Presenters
Annemarie Petrov
President and CEO of the Winspear Centre and Edmonton Symphony Orchestra
Annemarie is interested in the role of music in innovation, sustainability, and a healthy society. She has seen the Winspear Centre through the creation of the Tommy Banks Centre for Musical Creativity (The Banks Centre) and is currently leading its expansion into a state-of-the-art community hub due to open in 2022. Knowing that participation in live music is essential to our well-being, she wants to ensure it is accessible to everyone. Among various programs intended for all ages, The Banks Centre includes YONA-Sistema, a free inner-city afterschool program launched eight years ago.
A native of Montréal and a graduate of McGill University in music performance, the values of inclusion and equality instilled in her since childhood serves as her north star. Annemarie has held leadership positions with Symphony New Brunswick, the National Arts Centre Orchestra and Winnipeg Symphony Orchestra. She joined the ESO and Winspear Centre in 2008. She currently serves on the boards of the Edmonton Chamber of Commerce and the Lieutenant Governor of Alberta Arts Awards, and the Edmonton International Airports Business Advisory Committee.
Annemarie is fanatical about a good cup of coffee, spending time in the mountains, a swim in a cold lake, reading just about anything, and spending time with her family and big, adorable dog.
---
Tateo Nakajima
Arup Fellow
Tateo Nakajima is an Arup Fellow and an internationally recognized leader in the design and planning of performing arts venues and the relationship the arts have with the built environment. Prior to joining Arup, Tateo was a Partner at Artec Consultants Inc, working on the theatre planning and auditorium acoustics aspects of a wide range of projects.
Tateo has lead projects around the world, working many of the highest profile architecture and design practices, and with some of the most influential artists and musical ensembles today. He has had overall design and management responsibility for consulting input to projects ranging from concert halls and opera houses to pop entertainment venues, museums, immersive experiences, and arts, culture & entertainment districts in the Americas, Europe, the Middle East and Asia.
Tateo's formal training and early career experience was in violin performance and conducting, studying in Canada, Japan, and in The Netherlands. He has led orchestras and opera companies in France, Switzerland, Romania, and Bulgaria. In addition, he has guest conducted across Europe, including a new production of ballet at the Vienna State Opera.
Tateo Nakajima was trained in the design and planning of performing arts venues by the late Russell Johnson, who remains a guiding influence in his work.
Using Digital as a Tool in Storytelling 
Wednesday January 13 • 10:00 AM - 11:30 AM MST
Via Zoom
Presented by:
Gretchen Coss  | Senior Vice President of Strategic Partnerships, Gallagher & Associates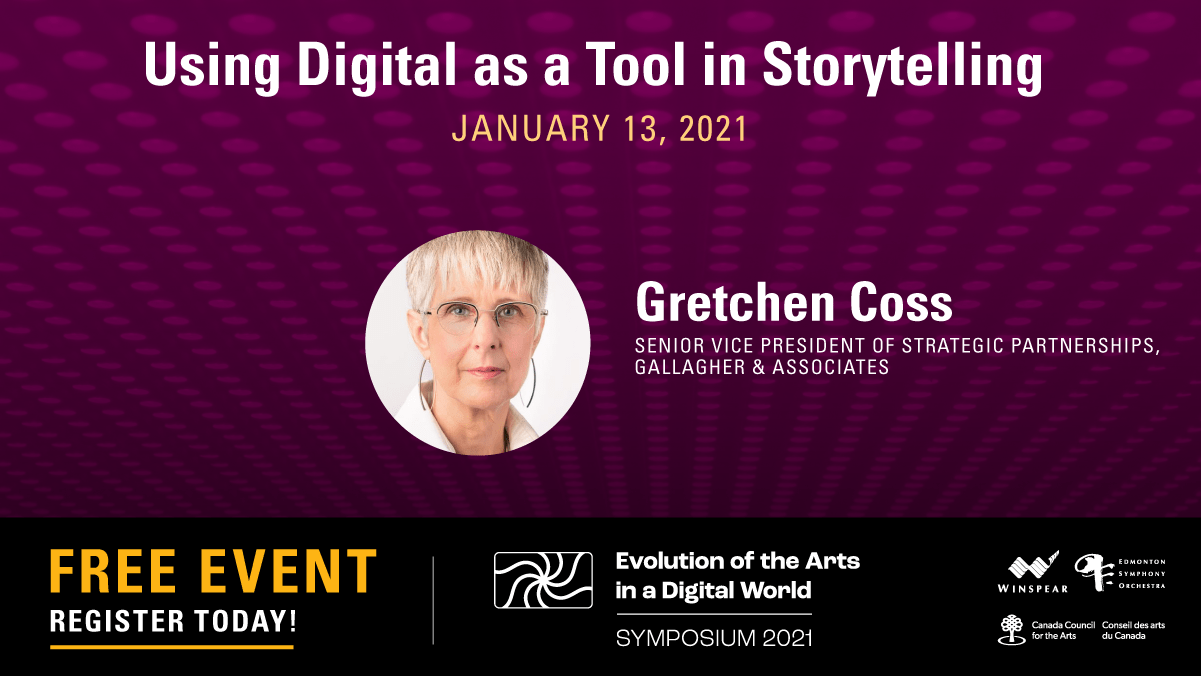 ---
About the Presentation
Storytelling is a fundamental aspect of any organization: it's the way in which we tell our audiences why they should visit us, support us, and engage with us. The ways in which we tell our stories are deeply entrenched within the medium(s) through which our stories are told and the intentional connection of the outward messaging.
Participation. Joy. Action. How do we use technology - a tool devoid of emotion - to stimulate these reactions in people? In many cases, we will need to reimagine the stories we are telling and the ways in which we can resonate with our audiences, whether in person or virtually.
Join Gretchen Coss, Senior Vice President of Strategic Partnerships with Gallagher & Associates, as she highlights specific considerations to harness the power of digital storytelling. As Gretchen takes us through the intersection of digital and physical design within interpretive experiences, she will help participants understand how and when to place technology in service of the story, rather than just for the sake of cutting edge technology.
The goal will be to understand how design decisions elevate the story. These stories within the Cultural and Performing Arts sector have the ability to bridge the cultural divide and to play a significant role in the healing process - bringing our people, our cities and our economies back.
About the Presenter
Gretchen Coss
Senior Vice President of Strategic Partnerships, Gallagher & Associates
Gretchen Coss is a visionary leader, educator, and designer with over twenty-five years of experience in global brand management, experience design, and placemaking. Prior to G&A, Gretchen was Vice President/Director of Graphics for Gensler LA; and owned her own agency, Coss Creative, where she led design and development for large-scale, mixed-use projects for over 11 years. Gretchen joined G&A at its inception to lead strategic visioning and pursuits, contributing to the firm's worldwide growth and esteemed reputation. She is a passionate educator and active industry leader, serving on the board of the Society for Experiential Graphic Design for six years, where she was a past president and helped to launch their education foundation; and as a past adjunct professor for the Master of Exhibition Design at the Corcoran College of Art + Design, where she won a faculty award for exemplifying innovative teaching techniques. Gretchen continues to lead museum planning and visioning workshops throughout the world for organizations such as IMCC, MAAM, ICOM, SEGD, and AAM.
Playful Interactives
Wednesday January 20 • 10:00 AM - 11:30 AM MST
Via Zoom
Presented by:
Evelyn Delgado | Children's Museum Development Consultant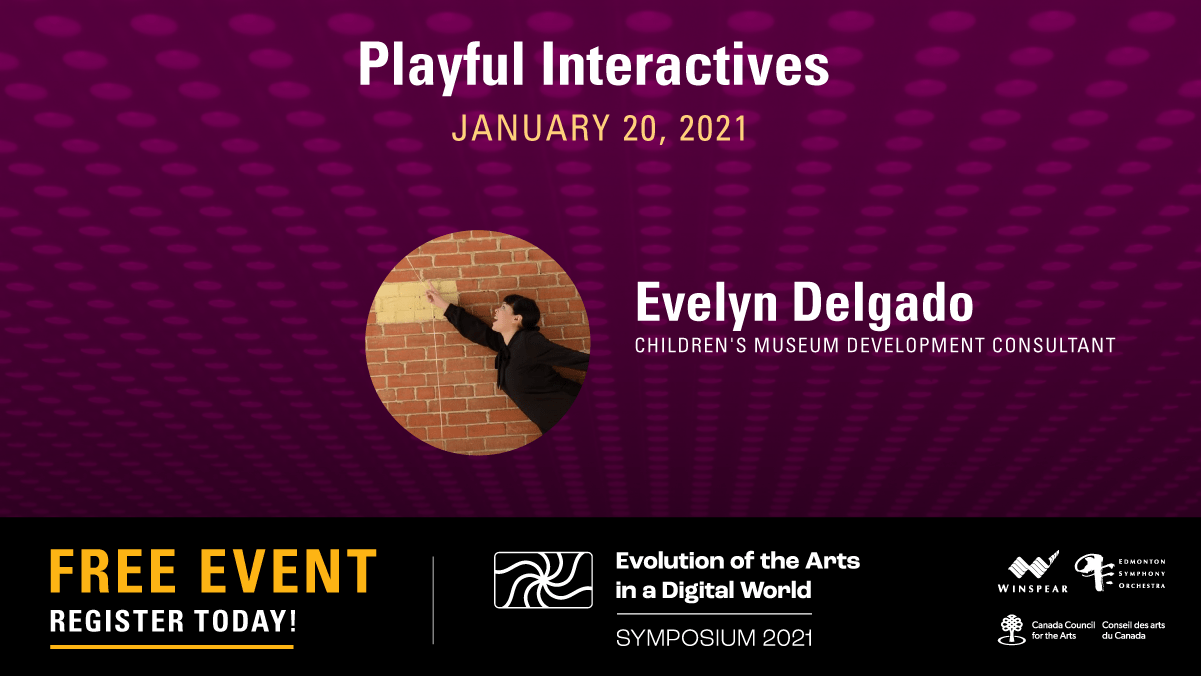 ---
About the Presentation
Join Evelyn Delgado, children's museum development consultant, as she takes us through her exhibit creation process and help us understand some of the considerations and options for engaging both younger and older audiences with interactive technology. Together, we'll think about designing and implementing exhibits that effectively engage, instruct, and entertain our audiences.
About the Presenter
Evelyn Delgado
Children's Museum Development Consultant
Evelyn is an educational consultant, museum educator and children's museum designer. With more than 15 years of experience in alternative learning intuitions such as children's museums and science centres, she is renowned for her work in space activation and interactive play programming.
---
Emerging Digital Technologies: Endless Possibilities on a Budget
Wednesday January 27 • 10:00 AM - 11:30 AM MST
Via Zoom
Presented by:
Rafael Baldwin | Digital Media Storyteller, New World Symphony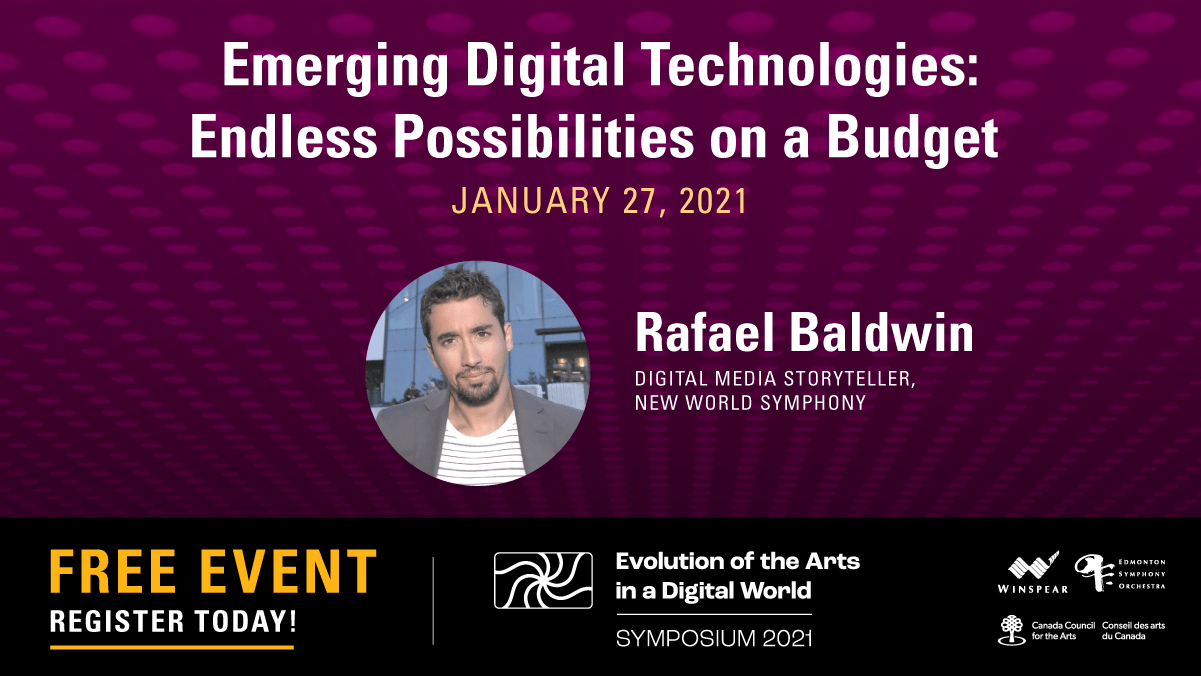 About the Presentation
When it comes to digital technology, the possibilities for audience engagement and entertainment are endless. Technology itself has come so far that preparing high-quality digital materials can be achieved within whatever size of budget – big or small. Join Rafael Baldwin, renowned Digital Media Storyteller for the New World Symphony and Professor of Immersive Filmmaking at the University of Miami, as he takes us on a technological journey that will introduce us to emerging tools and resources that would give an edge to any content and marketing strategy – from lenses and apps that enhance the cameras on our phones to creating interactive videos, personalized content, and immersive virtual realities. We will learn about tools that we can leverage to level up our current digital offerings, and make our future engagement stronger, dynamic, interactive, and more impactful than we ever could have imagined. Don't be left behind!
About the Presenter
Rafael Baldwin
Digital Media Storyteller, New World Symphony
Rafael Baldwin is a single, multi-camera, and VR/360° immersive media director and producer working at the intersection of filmmaking, sound and music production, computer programming, and human interaction.
Experienced in non-fiction television broadcast, Baldwin has been in charge of news coverage and special transmissions of events of the highest international reputation, such as the British Academy of Film and Television Arts (BAFTA) Awards; Cannes, Venice, Berlin, San Sebastian, Sundance Europe, and London Film Festivals; The Royal Wedding of Prince William and Kate Middleton in Great Britain; the Coronation of King Philip VI of Spain; the London 2012 Olympic and Paralympic Games; and the NFL at Wembley. In 2014, he won the 2nd place at the British Broadcasting Corporation (BBC) World Cup Freestyles: an international music video competition organized by the BBC – the most important public media conglomerate in the world – broadcast in the context of the 2014 Brazil FIFA Football World Cup.
Rafael Baldwin's work has been featured on media outlets such as ESPN, BBC, Variety Latino, Univision Networks, and Televisa Media Group, and he is a Lifetime Member of the National Association of Hispanic Journalists (NAHJ) of America.
Baldwin has been responsible for interviews with:
Film: George Clooney, Tom Hanks, Hugh Jackman
Sports: Michael Phelps, Usain Bolt, Roger Federer
Music: The Rolling Stones, The Eagles, Scorpions

Classical music: Michael Tilson Thomas, Sasha Cooke, Gil Shaham

Politics: Ban Ki-moon, Lech Walesa, Boris Johnson
In the field of New Media, Rafael Baldwin is the Digital Media Storyteller at the New World Symphony – the main symphonic orchestra in Florida, led by eleven-time Grammy-Award winner conductor Michael Tilson Thomas – and Professor of VR/360º Immersive Filmmaking and Storytelling for undergraduate and postgraduate students at the University of Miami. He has been an Immersive Filmmaking consultant for PBS South Florida, an Insta360 featured video artist during the Russia 2018 FIFA World Cup, and a guest speaker at important arts summits such as the Miami Arts Marketing Project and the National Conference of the League of American Orchestras. In 2016, Baldwin directed the award-winning Virtual Reality documentary "Mission: Frost Science" in collaboration with the new Phillip and Patricia Frost Science Museum of Miami.
Rafael has three postgraduate degrees: a Master's Degree in Screen Documentary from Goldsmiths, University of London, a Master's Degree in Interactive Media from the University of Miami, and a Master's Degree in Composition for Screen from the Royal College of Music in London.
Fireside Chat: Institutional Change, Funding, and Infrastructure
Wednesday Feruary 3 • 10:00 AM - 11:30 AM MST
Via Zoom
Presented by:
Annemarie Petrov | President and CEO of the Winspear Centre and Edmonton Symphony Orchestra
Tateo Nakajima | Arup Fellow
Annette Mees | Head, Audience Labs, Royal Opera House
Gretchen Coss | Senior Vice President of Strategic Partnerships, Gallagher & Associates
Rafael Baldwin | Digital Media Storyteller, New World Symphony
Scott Smallwood | Director, Sound Studies Institute, University of Alberta
Milan Krepelka | Senior Manager, Exhibit Design & Quality, TELUS World of Science Edmonton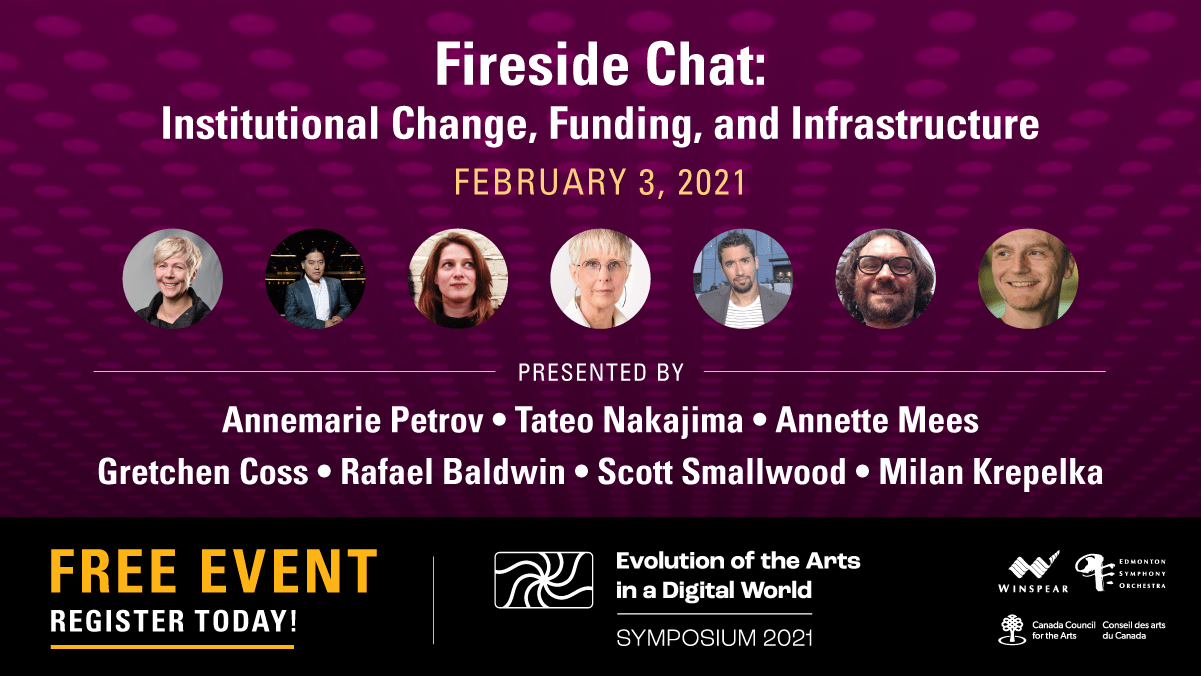 ---
About the Presentation
Our symposium is proving, without question, that there are a variety of factors to consider when making the jump to digital technology. At this event, we will be sitting down for some high-level discussion about some of the major and most daunting factors, to help set myths about them to rest. Here, you'll listen to a group of experts engage in moderated conversation about the institutional change required to successfully integrate digital technology in day-to-day operations, finding and engaging with new funders and funding methods to make digital possible, and creating the infrastructure required for successful digital integration. You'll leave this session with an understanding of the big-picture changes that your organization may need as you move forward into the digital realm.
Artists and Technology Working Together  
Wednesday February 10 • 10:00 AM - 11:30 AM MST
Via Zoom
Presented by:
Scott Smallwood | Director, Sound Studies Institute, University of Alberta
Paola Prestini  | Composer; Founder of National Sawdust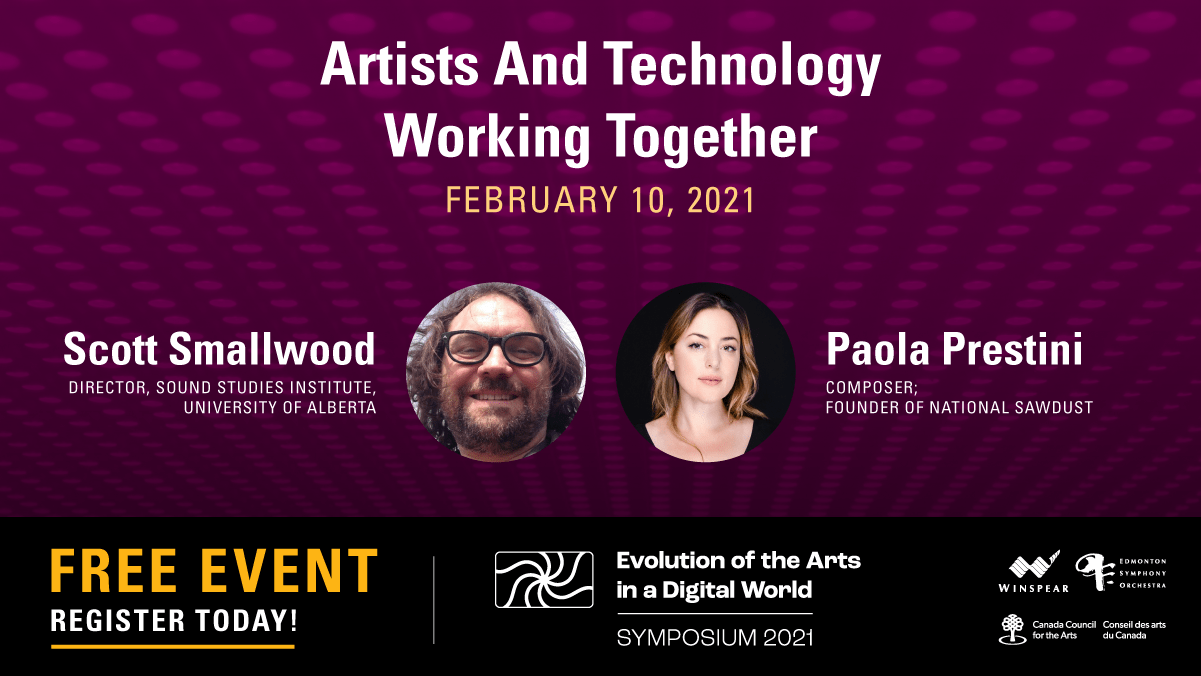 ---
About the Presentation
There are many considerations when it comes to successfully blending art and technology to create new, exciting, and immersive experiences. Thankfully, we have two incredible artists that work with technology in their everyday activities who can speak to the artistic side of technology and the ways in which they utilize technology in their art forms.
Join Scott Smallwood, sound artist and professor at the University of Alberta, and Paola Prestini, composer and founder of National Sawdust, as they explore the convergence of artists and technology. From using VR to experience an orchestra to creating sound art exhibits within physical and digital spaces, Scott and Paola have a world of experience to share with us. They will discuss accessibility within venues, sound as a medium, the infrastructure required to create immersive sound experiences, and the interdisciplinary work that engages artists and technology to create amazing new artistic experiences.
About the Presenters
Scott Smallwood
Director, Sound Studies Institute, University of Alberta
Scott Smallwood is a sound artist, composer, and sound performer who creates works inspired by discovered textures and forms, through a practice of listening, field recording, and sonic improvisation. He designs experimental electronic instruments and software, as well as sound installations and site-specific performance scenarios. Important to his process is exploring the subtleties of sonic texture through gradual transformations of timbre, particularly with sounds that may have originated from specific recordings of objects or spaces. His compositional and improvisational work makes use of space explicitly, and often involves multiple channel environments, found sounds, and non-conventional instrumentation. He works in a variety of sound and music genres, including instrumental concert and chamber music, electroacoustic music, sound art and installation, improvisatory performance, and more recently, audio game development. His work has been presented worldwide, including recent presentations at the Issue Project Room in NYC, the Burning Man Festival in Black Rock City, Nevada, the The Hong Kong Arts Centre, and Caramoor Center for Music and the Arts in Katonah, NY. His recorded work has been released on Autumn Records, Deep Listening, Wowcool, Simple Logic, Static Caravan, and Dead Definition Records.
In addition to his artistic work and research, Smallwood has been an educator in music composition and technology in the US and Canada for over 25 years. He holds music degrees from Seattle Pacific University, Miami University, Peabody Conservatory, and Princeton University, where he also held postdoctoral research associate position, working with the legendary Princeton Laptop Orchestra (PLOrk). From 1997 until 2003, he worked as a studio engineer, faculty member, and technical director in the electronic arts program at Rensselaer Polytechnic Institute, where he developed a continuing interest in collaboration with artists in other media. He is currently the director of the Sound Studies Institute at the University of Alberta, where he serves as an associate professor of music composition and technology.
---
Paola Prestini
Composer; Founder of National Sawdust
Paola Prestini has collaborated with poets, filmmakers, and scientists in large-scale multimedia works that chart her interest in extra-musical themes ranging from the cosmos to the environment. Her compositions have been commissioned by and performed at the Brooklyn Academy of Music, Brooklyn Youth Chorus, Barbican Centre, Cannes Film Festival, Carnegie Hall, The Kennedy Center, Los Angeles Philharmonic, Los Angeles Opera, Roomful of Teeth, Choir of Trinity Wall Street, and Young People's Chorus of New York City, among others. 
Upcoming projects include the opera Edward Tulane (Minnesota Opera), the chamber opera Sensorium Ex (Atlanta Opera and Beth Morrison Projects Prototype Festival), the foley chamber opera Silent Light (Banff's Opera in the 21st Century), a piano concerto for Awadagin Pratt and A Far Cry, a piano concerto for Lara Downes and the Louisville Symphony, Oregon Bach Festival, and music for The Amazon, a documentary and arts event (recently screened at the Margaret Mead Film Festival at the Museum of Natural History). Her project Con Alma: An Operatic Tableau on Isolation, co-created with singer and composer Magos Herrera, will be released as an album on December 4 followed by a live digital experience on December 13.
She is the co-founder and artistic director of the Brooklyn-based arts institution and incubator, National Sawdust, and as part of her commitment to the next generation and equity, she started the Hildegard Competition for emerging female, trans, and non-binary composers and the Blueprint Fellowship for emerging composers with the Juilliard School. She was a Paul and Daisy Soros Fellow and a Sundance Fellow, and is a graduate of the Juilliard School.
Immersive vs Interactive Technology: A Practical Guide
  Free Event • Register Now!  
Wednesday February 17 • 10:00 AM - 11:30 AM MST
Via Zoom
Presented by:

Jesse Moffat | Director of Collections and Exhibitions, National Music Centre (NMC)
Amanda Derksen | Digital Initiatives Librarian, Edmonton Public Library
Dan Alfano | Manager, Digital Initiatives, Edmonton Public Library
Milan Krepelka | Senior Manager, Exhibit Design & Quality, TELUS World of Science Edmonton
---
About the Presentation
With the many different types of digital technology available for use, deciding which technology to use can be a big step. Luckily, we've compiled a panel of local experts who will share their experience working on various immersive and interactive projects in Edmonton and Calgary. They will provide advice, recommend specific technologies, discuss the prevalence and changing methods of creating immersive and interactive experiences, and leave audience members with an understanding of the ways in which they can utilize these technologies to expand their organizational offerings. Some questions the panelists will tackle include:
Where do you recommend organizations begin when they're planning to include immersive or interactive technology in their organization's daily activities?
If you could provide one piece of advice about integrating technology (of any kind) in an organization, what would it be?
What's the best use of immersive or interactive technology within your organization?
By providing practical, experience-based answers, this panel will prepare you to tackle new technologies and find new and creative ways to tell your organizational story through digital technology.
About the Presenters
Jesse Moffatt
Director of Collections and Exhibitions, National Music Centre (NMC)
Jesse Moffatt is the Director of Collections and Exhibitions at the National Music Centre (NMC). He joined the organization in 2005 and was part of the team that helped NMC transition from a grassroots operation to a national institution. Prior to opening NMC's state-of-the-art facility, Studio Bell, in 2016, Jesse worked closely with world-leading exhibition design firm, Hayley Sharpe Designs, in the development of NMC's permanent exhibitions. Since then, Jesse has led the vision and development of NMC's collections and exhibitions, reimagining the visitor experience through the development of physical and digital interactive and experiential exhibitions. Dedicated to sustainable exhibition development, Jesse believes that making the visitor experience meaningful, engaging, relevant and exciting through good design is the recipe for a successful 21st century cultural institution. As the brainchild behind Calgary's street pianos project, where he placed pianos in unexpected places for the public to play, Jesse received the 2015 Downtown Calgary Vitality Award for enhancing the downtown core through art and culture. On weekends, you'll find Jesse playing competitive soccer, on the sidelines coaching one of his kid's teams, cooking up a storm for family and friends, or in his studio creating his next unique design.
---
Amanda Derksen
Digital Initiatives Librarian, Edmonton Public Library
Amanda Derksen has spent the last ten years connecting people with technology in academic and public libraries. She's started a Makerspace, built a Twitter bot for tomatoes, worked with post-secondary students to develop interactives for public exhibit, and most recently helped bring a 2-story digital wall to life. She enjoys puzzling through the unexpected aftermaths of human-computer interactions.
When not at work, Amanda spends her free time collecting plants, science fiction, and hobbies.
---
Dan Alfano
Manager, Digital Initiatives, Edmonton Public Library
Dan Alfano holds a Bachelor of Education degree from the University of Alberta and is the Manager, Digital Initiatives at Edmonton Public Library (EPL). He has spent the past 11+ years working in the world of tourism and informal education at public facilities. He has a background in developing and facilitating STEAM Educational programs, hands-on exhibits and special events. His current work primarily revolves around working within makerspaces, digital literacy and digital exhibits at EPL. He is also entering his 5th year as a volunteer/coach with FTC Robotics.
---
Milan Krepelka
Senior Manager, Exhibit Design & Quality, TELUS World of Science Edmonton
From a very young age, I was taking things apart to see how they work. At first I was just dutifully arranging their parts by how shiny they were, but by the age of 7 or 8, I finally began putting a few things back together. Much to the satisfaction of everyone that left me alone with tools and a machine of any kind, around 11 those things would occasionally work again. I've always been fascinated by the design of things, thinking about the energy and effort that go into the creation and production of things. Throughout my education and career that fascination has evolved to include learning about ways that technology and machines interplay.
In my current role as Senior Manager of Exhibit Design and Quality at TELUS World of Science Edmonton, I have the opportunity to help bring exciting and educational experiences to life. For the past 18 years I've been involved with many great projects ranging from small tabletop exhibits to full galleries of immersive and interactive elements. Before landing my current position, I had spent time as an automotive mechanic, and a mechanical engineering and computing science student before landing at the University of Alberta's Industrial design department. Since finishing that program in 2000, I've been fortunate to take part in multiple design and consultation roles and teaching design and CAD part time.
Expanding our Horizons: Innovation, Transformation, and the Future
Wednesday February 24 • 10:00 AM - 11:30 AM MST
Via Zoom
Presented by:
Annette Mees | Head of Audience Labs, the Royal Opera House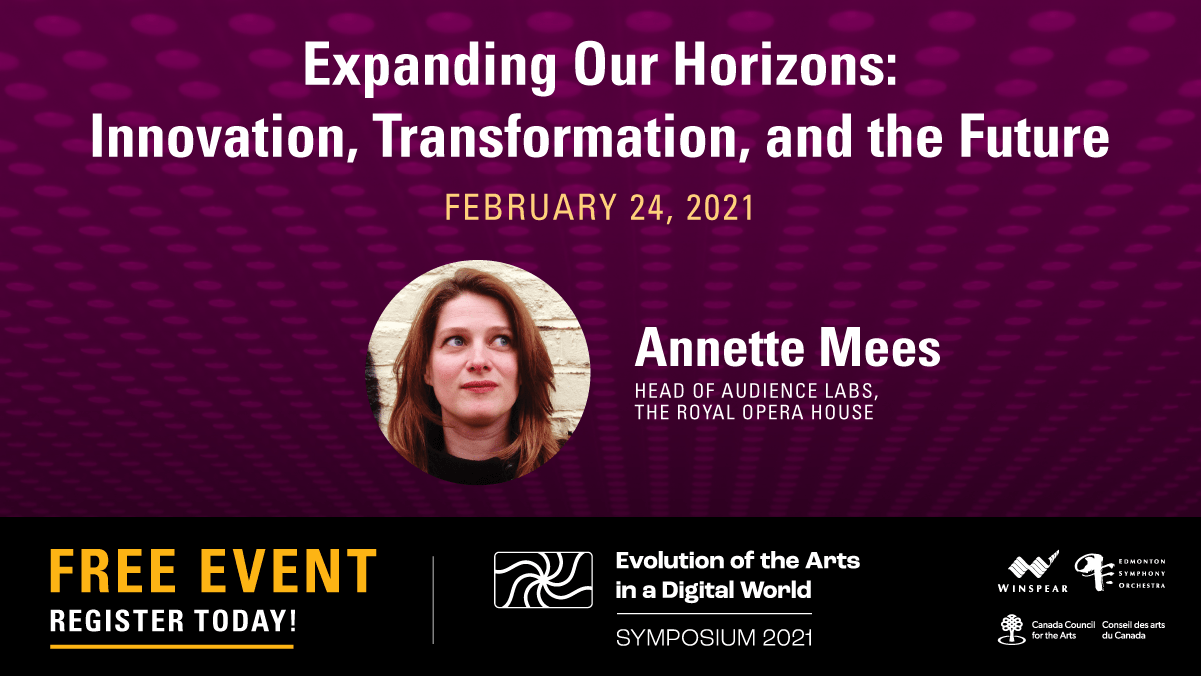 ---
About the Presentation
The future of our organizations depends on our ability to adapt to the new world we live in. We all have questions, and want to know what's next, what's possible, and how we continue making good art in our world. Lucky for us, we have Annette Mees, head of Audience Labs at the Royal Opera House, to help us look towards the future at how we can make art an important part of the digital boom.
Innovation is a mindset, and Annette is here to break down the aspects of that mindset. She'll discuss different ways of approaching projects, transformation in what a digital team might look like moving forward, and explore new funding options. She understands that digital art is about expanding the industry, not replacing what we already have, and through her experience and knowledge, we will all be able to look to the future with optimism of how we can grow and expand our current horizons.
About the Presenter
Annette Mees
Head of Audience Labs, The Royal Opera House
Annette Mees is an award-winning artist and immersive theatre director. She has directed experiential work across art forms mixing live and digital experiences that put the audience at the heart. She advises and speaks on the future of culture, artistic innovation, creative R&D and models of art that allow dialogue with audiences.
Annette is currently the Head of The Audience Labs at the Royal Opera House - dedicated to exploring the artistic possibilities of immersive technologies. It partners leading artists with cutting-edge creative immersive technology and inter-disciplinary creative teams to create world-class work that innovates and pushes boundaries.
She was a Creative Fellow for WIRED and The Space, Guest-Artistic Director of the Danish Inspiration Lab and worked on the IK-prize winning Sensorium at Tate Britain. She started her career as one of the co-Artistic Directors of Coney.
Annette has worked with partners across sectors including Google, Tate Britain, UK Parliament, Ogilvy, WIRED Magazine, European Space Agency, British Council, King's College, ICA, The National Theatre of Wales, SJ01 San Jose Biennale, & NESTA.
---
What to Expect
Our sessions will begin with a presentation featuring an expert on the session topic. From world-renowned acousticians to local exhibit designing superstars, we've selected the best of the best and invited them to share their knowledge, experience, and expertise with you.
After each session, our experts will pose a question to all attendees; then, attendees will be split into virtual breakout groups to take on this question with their group. These questions will focus specifically on tangible actions and items that attendees can take back to their organizations and feel confident and comfortable instituting.
Once the breakout groups have returned to the main session and reported back on their discoveries, there will be an open Q&A period, where attendees can ask questions of our experts. This is your opportunity to bring your unique circumstance to the table and ask our experts how they would handle specific digital situations, or steps forward.
Finally, after the session, attendees will receive a comprehensive package with important takeaways from the event: a document that will reiterate the many reasons why going digital is not nearly as scary and intimidating as it looks. This document will provide guidance for every organization, and will include information ranging from specific technology recommendations at reasonable price points, to the questions an organization needs to ask as they continue their story digitally.
Let's break down the walls of digital technology together. Register today!
Our Speakers:
The Evolution of the Arts in a Digital World Symposium is proud to be featuring experts from the following organizations:
---
Who Should Attend?
The Evolution of the Arts in a Digital World Symposium has something for everyone. Whether you're a small arts organization, a non-profit organization, an orchestra, a government organization, or a local retailer, we guarantee that our symposium will help you find new and engaging ways to include digital technology in your everyday activities. Our symposium is aimed towards a wide variety of participants, including:
CEOs who want to introduce digital initiatives to their organizations to help connect patrons to their organizational purpose and story;
General Managers who are involved in decision-making about digital initiatives, digital operations, and the end benefits of going digital;
Educators who want to expand their outreach activities to include imaginative and curriculum-focused digital learning experiences;
Audience Engagement Teams who seek to find new ways to share their stories with patrons in meaningful and memorable ways;
Anyone who wants to understand the power that creatively used technology can have on a patron's experience at, memory of, and affection for an organization.
---
Any questions about the symposium should be directed to Kyra Droog at symposium@winspearcentre.com or 780-401-2593.
---
This Symposium is made possible through the generous support of the Canada Council for the Arts, Arup, and Edmonton Community Foundation.