Emerging Digital Technologies: Endless Possibilities on a Budget
  Free Event • Register Now!  


Wednesday January 27 • 10:00 AM - 11:30 AM MST
Via Zoom
Presented by:
Rafael Baldwin | Digital Media Storyteller, New World Symphony
Register Here Attendee Package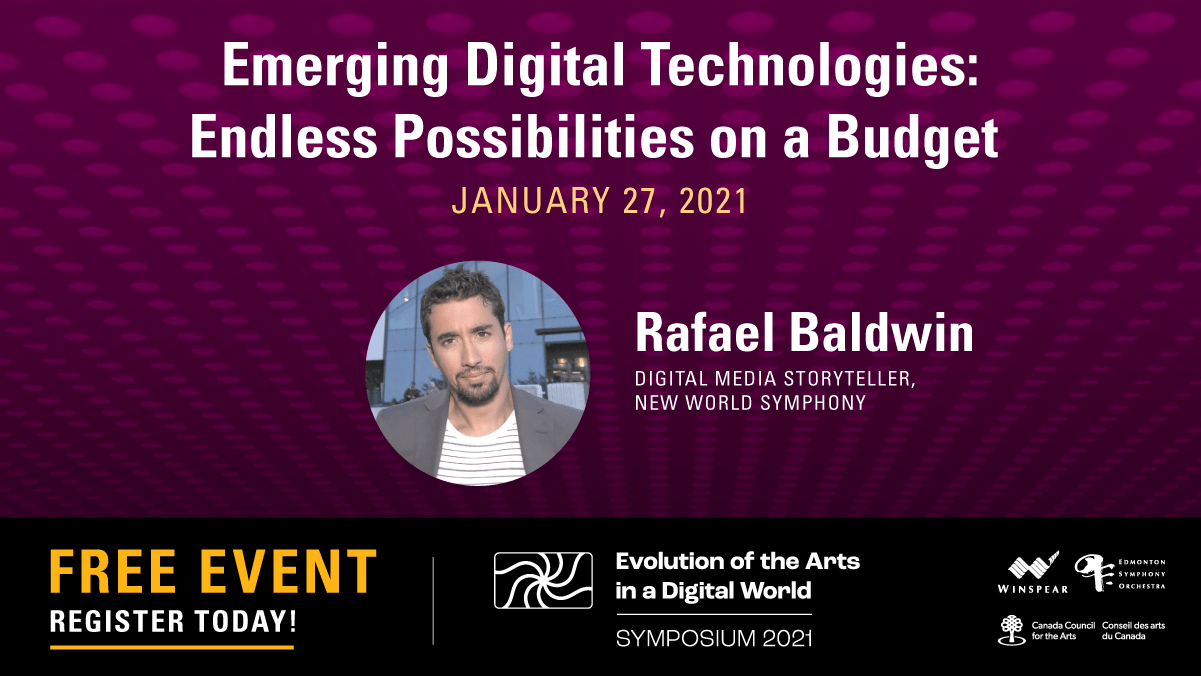 ---
About the Presentation
When it comes to digital technology, the possibilities for audience engagement and entertainment are endless. Technology itself has come so far that preparing high-quality digital materials can be achieved within whatever size of budget – big or small. Join Rafael Baldwin, renowned Digital Media Storyteller for the New World Symphony and Professor of Immersive Filmmaking at the University of Miami, as he takes us on a technological journey that will introduce us to emerging tools and resources that would give an edge to any content and marketing strategy – from lenses and apps that enhance the cameras on our phones to creating interactive videos, personalized content, and immersive virtual realities. We will learn about tools that we can leverage to level up our current digital offerings, and make our future engagement stronger, dynamic, interactive, and more impactful than we ever could have imagined. Don't be left behind!
About the Presenter
Rafael Baldwin
Digital Media Storyteller, New World Symphony
Rafael Baldwin is a single, multi-camera, and VR/360° immersive media director and producer working at the intersection of filmmaking, sound and music production, computer programming, and human interaction.
Experienced in non-fiction television broadcast, Baldwin has been in charge of news coverage and special transmissions of events of the highest international reputation, such as the British Academy of Film and Television Arts (BAFTA) Awards; Cannes, Venice, Berlin, San Sebastian, Sundance Europe, and London Film Festivals; The Royal Wedding of Prince William and Kate Middleton in Great Britain; the Coronation of King Philip VI of Spain; the London 2012 Olympic and Paralympic Games; and the NFL at Wembley. In 2014, he won the 2nd place at the British Broadcasting Corporation (BBC) World Cup Freestyles: an international music video competition organized by the BBC – the most important public media conglomerate in the world – broadcast in the context of the 2014 Brazil FIFA Football World Cup.
Rafael Baldwin's work has been featured on media outlets such as ESPN, BBC, Variety Latino, Univision Networks, and Televisa Media Group, and he is a Lifetime Member of the National Association of Hispanic Journalists (NAHJ) of America.
Baldwin has been responsible for interviews with:
Film: George Clooney, Tom Hanks, Hugh Jackman
Sports: Michael Phelps, Usain Bolt, Roger Federer
Music: The Rolling Stones, The Eagles, Scorpions

Classical music: Michael Tilson Thomas, Sasha Cooke, Gil Shaham

Politics: Ban Ki-moon, Lech Walesa, Boris Johnson
In the field of New Media, Rafael Baldwin is the Digital Media Storyteller at the New World Symphony – the main symphonic orchestra in Florida, led by eleven-time Grammy-Award winner conductor Michael Tilson Thomas – and Professor of VR/360º Immersive Filmmaking and Storytelling for undergraduate and postgraduate students at the University of Miami. He has been an Immersive Filmmaking consultant for PBS South Florida, an Insta360 featured video artist during the Russia 2018 FIFA World Cup, and a guest speaker at important arts summits such as the Miami Arts Marketing Project and the National Conference of the League of American Orchestras. In 2016, Baldwin directed the award-winning Virtual Reality documentary "Mission: Frost Science" in collaboration with the new Phillip and Patricia Frost Science Museum of Miami.
Rafael has three postgraduate degrees: a Master's Degree in Screen Documentary from Goldsmiths, University of London, a Master's Degree in Interactive Media from the University of Miami, and a Master's Degree in Composition for Screen from the Royal College of Music in London.
---
More Information
Click a button below to open
The ways we can interact with the world around us are infinite, and today's technologies are powerful engines for digital participation. On Wednesday mornings from 10 AM – 11:30 AM MT beginning January 6th, 2021, the Edmonton Symphony Orchestra (ESO) is hosting a webinar-series symposium featuring presenters with expertise in specific digital technology fields. Our presenter list includes leads from arts organizations that have experienced a recent digital transformation, as well as digital experts from around the world. The symposium's goal is to educate, inspire, and guide local arts organizations and orchestras across Canada through their exploration of and introduction to relevant digital technology.
Evolution of the Arts in a Digital World
will provide organizations with the tools they need to determine how and when to implement technology and identify how technology can be used as a tool to help tell a story. In addition, the symposium will act as a guide to implementing specific technologies such as immersive and digital interactives in budget-friendly and thoughtful ways. Through example-driven, hands-on approaches, our symposium will give participants an introduction to integrating technology in their organizations with confidence.
---
The Evolution of the Arts in a Digital World Symposium is proud to be featuring experts from the following organizations:
We encourage arts organizations, not-for-profit organizations, and orchestras to join us in national conversation about the ways in which digital technology can be included in everyday organizational functions with creativity and ease. Our symposium is aimed towards a variety of participants, including:
CEOs who want to understand how to introduce digital initiatives to their organizations in ways that will connect patrons to their organizational purpose and story.
General Managers who want to understand how to create teams for digital operations, who needs to be involved in decisions regarding digital initiatives, and what the end benefits are of going digital.
Educators who want to expand their outreach activities to include imaginative and curriculum-focused digital learning experiences.
Audience Engagement Teams who want to find new ways to share their stories with patrons in meaningful, memorable ways.
Everyone who wants to understand the power that creatively used technology can have on a patron's experience at, memory of, and affection for an organization.
---
Any questions about the symposium should be directed to Kyra Droog at symposium@winspearcentre.com or 780-401-2593.
---
This Symposium is made possible through the generous support of the Canada Council for the Arts.

All 8 events are free to register. For more information on all events, visit the Symposium main page.