Young Leadership Council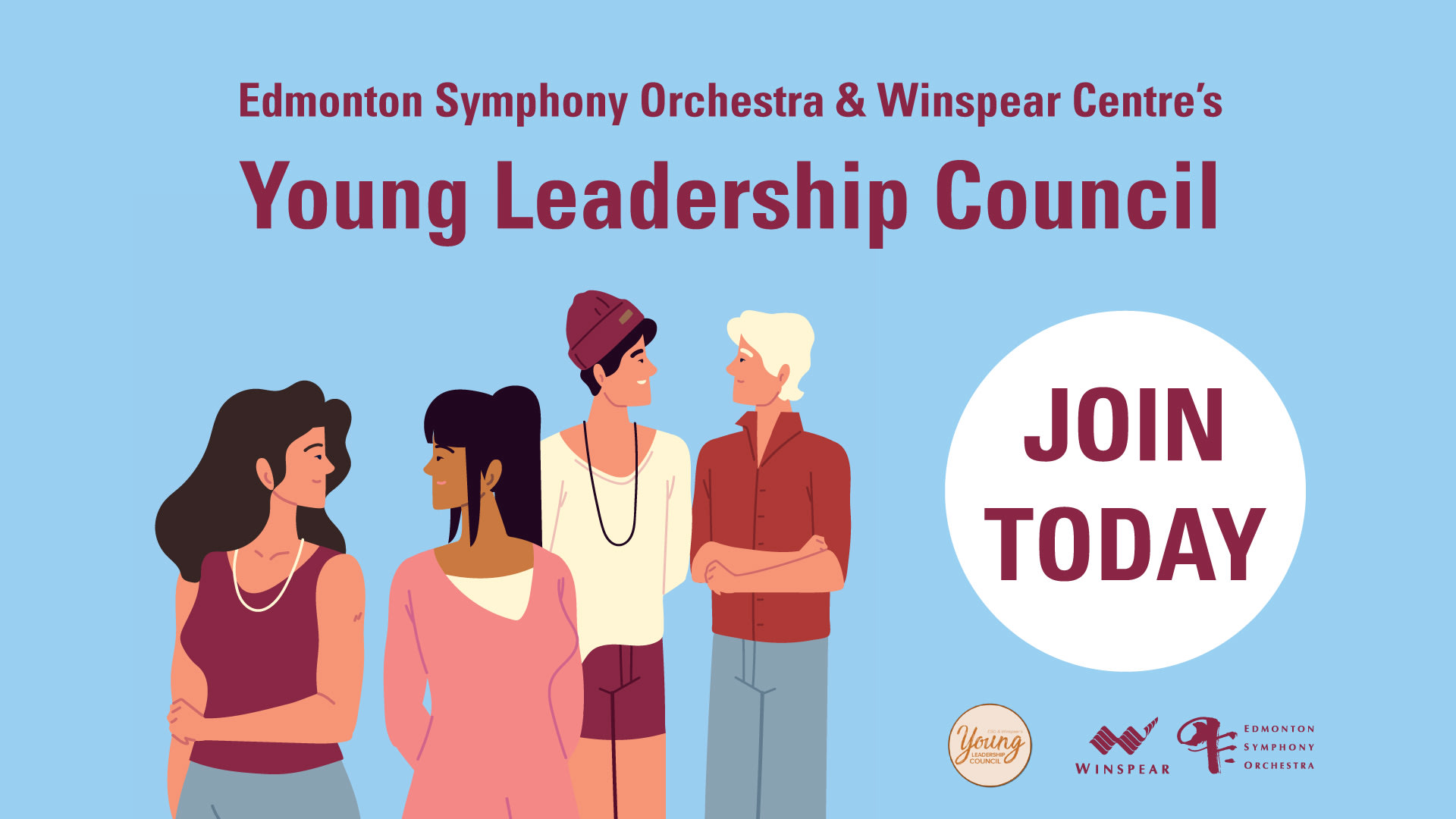 Are you interested in sharing your passion for the Edmonton Symphony Orchestra and Winspear Centre with other young people across Edmonton? Do you want to help your communities engage and connect with music and the Orchestra? Would you like the opportunity to provide a meaningful contribution to Winspear concerts and events?
If you answered yes to any of these questions, consider applying to join the Young Leadership Council (YLC)! The YLC is a diverse group of young and emerging leaders who have a curiosity about music and an interest in serving the community. Our mandate is to support the Edmonton Symphony Orchestra and Winspear through outreach, ambassadorship, and sharing feedback on Winspear and ESO events and concerts from the lens of the next generation of Winspear patrons.
The YLC works on a variety of projects including planning and hosting events, promoting concerts, advocating for the needs and perspectives of young people, and more. Members also have an opportunity to participate in activities that are part of the general volunteer program, such as volunteering at concerts and supporting special events.
YLC members will also have the opportunity to log their volunteer hours and earn free tickets to concerts!
Requirements:
Applicants must:
Be 18 to 35 years old; and
Reside in Edmonton or the surrounding area
Preference will be given to those who:
Have a passion for music or the arts;
An interest in giving back to the community;
Have prior engagement in community service;
Have a desire to develop and apply leadership and teamwork skills; and
Are self-motivated and able to make a reasonable commitment of time.
Commitment:
The Young Leadership Council is a one-year volunteer commitment, from August 2023 – July 2024, with the opportunity to continue for additional years. The average time commitment throughout the year is 5 to 10 hours per month. Council members are expected to attend regularly scheduled monthly meetings and work on assigned tasks and projects on their own schedule.
Benefits:
When volunteering with the YLC, you join a team of passionate music enthusiasts and arts supporters! It is a wonderful opportunity to meet like-minded people and develop leadership skills. Additionally, members earn free tickets to ESO concerts!
How to Apply:
Applications are currently closed. If you have any questions about YLC or the application process, please email ylc@winspearcentre.com.
---
Young Leadership Council Member List
Last Updated: August 1, 2023
Co-Chairs:
Rhiannon Nelson
Drew Delbaere
Secretary:
Kathleen Corrigan
Members:
Anastasia Cipko
Carissa Fedoruk
Erica Kath
Inna Dymouriak-Tymashov
Johann Barnard
Jolene Wong
Juli Cun
Kayla Bruce
Kathleen Corrigan
Katie Lundin
Rachel Glessing
Saoirse Cipko
Winnie Cheung