Getting Here
4 Sir Winston Churchill Sq
Edmonton, AB T5J 4X8

Locate the Winspear on Google maps by clicking here.
The Francis Winspear Centre for Music is on the corner of 102 Avenue and 99 Street, in the heart of The Arts District in downtown Edmonton. It is readily accessible by car, Edmonton Transit (bus and LRT), and the pedway system.
Just steps away from the Winspear Centre are the Art Gallery of Alberta, the Stanley A. Milner Library, the Citadel Theatre, Edmonton City Hall, and Winston Churchill Square. Opening onto the square, the Winspear Centre is literally in the middle of it all!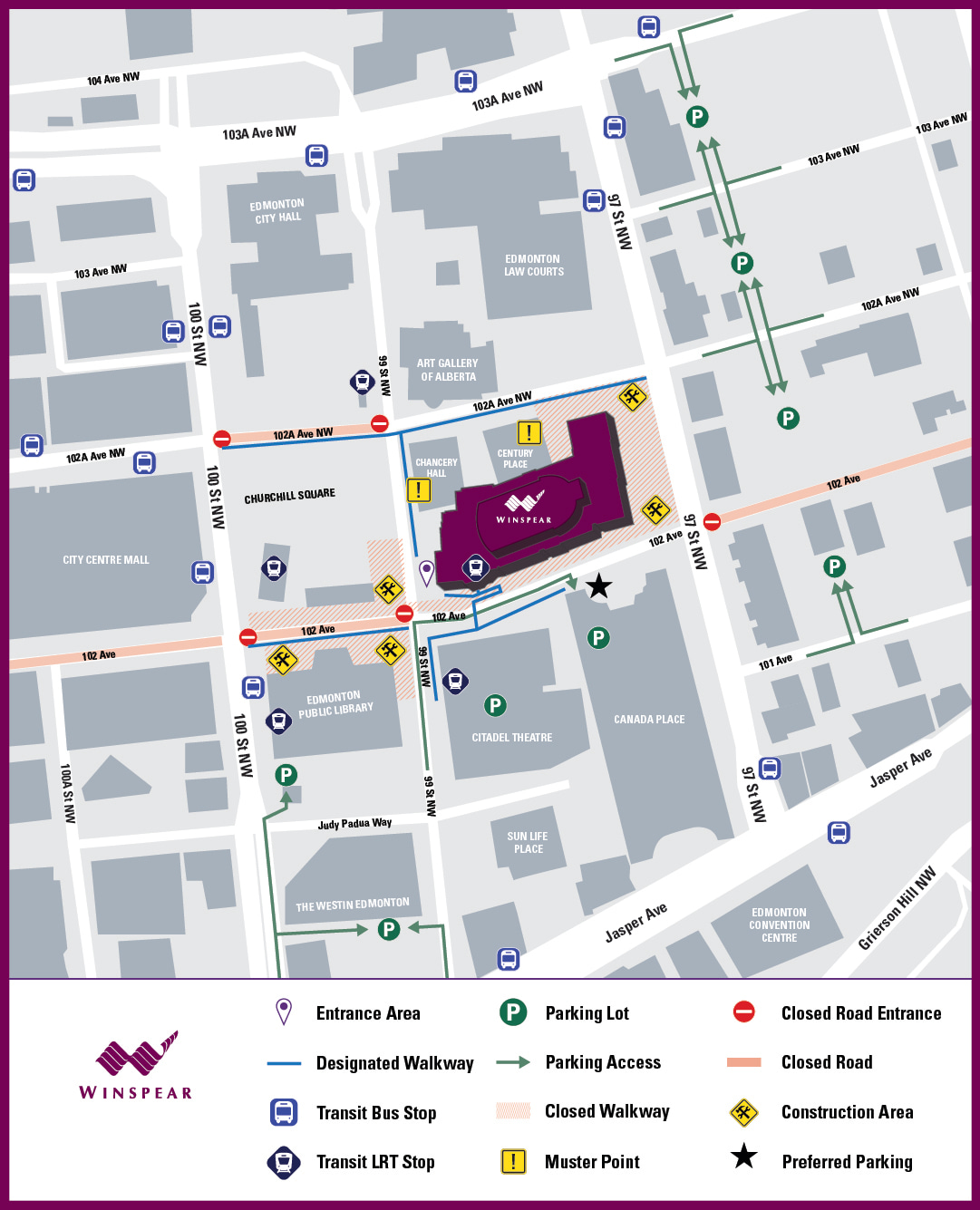 Map last updated December 7, 2021


Canada Place parking
The parkade entrance is located on 102 Avenue between 97 Street and 99 Street. However, due to construction, you must turn north onto 99 Street (towards the Citadel Theatre) from Jasper Avenue. Drive towards the end of the Citadel Theatre, then turn right and the parkade entrance will be on the right side of the street.
Please note that this is currently the only available access point.
Please note that the Edmonton Arts District is surrounded by active construction sites which includes the work for the Southeast LRT line. To learn more about specific traffic disruptions, please visit the City of Edmonton website.
Edmonton Transit Information
The Winspear Centre is readily accessible by both bus and LRT service. The LRT terminal is Churchill Station. Click here to be taken to the Edmonton Transit website page from which you can find maps and other useful information about taking public transit.
DROP OFF AREAS
Drop off areas include the Art Gallery of Alberta (102 A Avenue) and Citadel Theatre (99 Street NW).
Parking at the Winspear
The City of Edmonton provides over 1500 convenient parking stalls within a 5-minute walk from Winspear Centre, The Citadel Theatre and Shaw Conference Centre. The Library, Canada Place and City Hall parkades provide heated underground parking with pedway connections to the event venues. Parking is also available at on-street meters in the vicinity.
Metered (street) parking is free on Sundays and Statutory Holidays. Pricing at other parkades and on street varies depending on location, time and whether a major event is taking place at Rogers Place.
Click here for the Parking Information page from the City of Edmonton website for more information and rates for parkades.
As of May 21, 2019, our parking lot (off 97 street) and Stage Door Entrance are no longer accessible.
We ask all our visitors to use nearby parkades such as Edmonton Public Library and Canada Place.
Underground parkades are equipped with Parking Placards for Persons with Disabilities and are within walking distance to the Winspear Centre main entrance.
All visitors accessing the building may use the main doors located at 4 Sir Winston Churchill Square Northwest (corner of 99 Street & 102 Avenue).