Tom Cochrane & Red Rider: The Symphony Sessions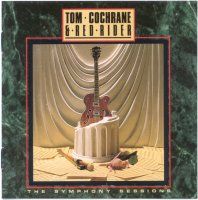 George Blondheim, conductor
EMI of Canada 26574-2
Distinctions: Canadian Gold record
---
About the CD
Well sheltered would have been the Canadian kid in the 1970s who hadn't known about the now-legendary recording the Edmonton Symphony Orchestra made with Procol Harum in 1971. But if you were an aspiring singer/songwriter like Tom Cochrane, it would have been impossible.
Throughout the 1980s, Tom Cochrane and Red Rider were a powerful presence on Canadian airwaves. Tom, from Lynn Lake, Manitoba, crafted honest and erudite songs for the band, born of his varied personal experiences, ranging from his days as a student at Ryerson College to crewing out on a merchant ship to see the world.
It probably wasn't too hard to coax Tom into following in the footsteps of Procol Harum and uniting with the ESO. The Symphony Sessions, as it turned out, was the last album for the group. Over the course of two nights (March 17 & 18, 1989) at the Jubilee Auditorium (the same place Procol Harum had presented their ESO show), the band summed up what had been a decade-long journey. From the early hit White Hot to the latter-day Boy Inside the Man, Tom and the band presented a dynamic live show to wildly enthusiastic audiences. Veteran Edmonton musician George Blondheim created the arrangements and conducted the orchestra.
The band: Tom Cochrane (vocals, guitars)
Ken Greer (guitars)
John Webster (keyboards)
Ken "Spider" Sinnaeve (bass)
Randall Coryell (drums)
Peter Mueller (guitars)