Music Box Babies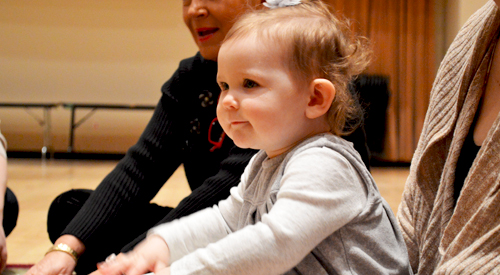 Parents, do you know that your baby has memories of the music they heard before they were born? Come to the Winspear Centre and nurture your child's innate musicality with a program involving singing, moving, and instruments that is designed specifically for babies and toddlers!
Class Groupings: 0 - 12 month olds, 12 - 24 month olds, and 24 - 36 month olds, 36 - 48 month.
Class Length: 45 minutes, 10 sessions over the semester
Class Dates: Tuesday, Thursday, Saturday, Sunday mornings
Cost: $170/Semester
Maximum 12 children per class. Classes are non-refundable.
All Music Box Babies classes up until March 31 have been cancelled, in accordance with the March 12th Alberta Health Services advisory.
Dear Music Box Babies Families,
The health and well-being of our patrons, staff, and musicians are of the utmost importance. At this time, we can confirm that all ESO events are cancelled through March 31, 2020. This includes our Music Box Babies classes. We are as disappointed as you are that our classes are not going ahead at this time. We are grateful for your support and patience, and are currently making plans to reschedule classes taking place in March and early April. We will keep you updated as we know more and find suitable dates to finish our semester.
For Tuesday Classes:
March 24, and March 31 are cancelled.
For Thursday Classes:
March 26th and April 9th are cancelled.
For Saturday Classes:
March 14th, March 21st, and March 28th are cancelled.
For Sunday Classes:
March 15th, March 21st, and March 29th are cancelled.
We will continue to inform you in the coming weeks if and how this situation will change. Thank you again for your patience and understanding during this challenging time. Should you have any inquiries or need clarification, please contact Amanda Banister at 780-401-2528, or at abanister@winspearcentre.com .
Stay well and we look forward to welcoming you back to the Winspear Centre soon.